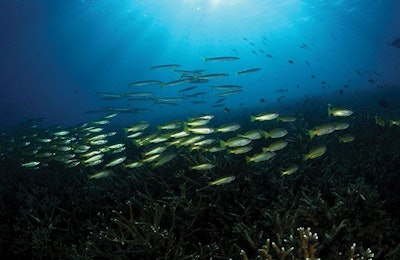 Industry anticipates continued abundance of fishmeal, but fish oil production is falling behind
Fishmeal could be slightly more abundant in the years to come after a 3.6% increase in production in 2021 and a sense that weather conditions will continue to improve, according to IFFO, the Marine Ingredients Organization.
Fishmeal production in countries sampled by IFFO came to 2.4 million metric tons, with increases reported in Peru, Chile and India. Northern Europe, the U.S. and Africa reported decreased production, but that trend may soon reverse itself, said Enrico Bachis, market research director for IFFO.
"In the U.S., we've had at least three years of difficult fishing," Bachis said. "After three years of everything working against this fishery, they are expecting something normal. It doesn't happen that you have four to six years in a row that are bad."
The sense of optimism, Bachis said, is based on the idea that weather patterns in the Gulf of Mexico, as in the Central Pacific, tend to run in two- to three-year cycles. Other major fisheries such as those off of Asia and South America expect continued growth for another year or two before El Nino returns and reduces fishery productivity. Meal from fish byproducts is also increasingly abundant, Bachis said, making fishmeal production less reliant on the catch from wild fisheries. So, at least for now, fishmeal is expected to remain in reasonably good supply.
Fish oil, on the other hand, is another story, Bachis said. Overall fish oil production is down 6% globally, with particularly steep declines reported in Peru. Changes in the fat content of fish appear to be responsible for the decline, Bachis said.
"For some reason, this year in Peru, there were a lot of juveniles and the oil content was lower than expected," Bachis said. In some cases, the oil content of the fish was less than 2%, compared to a normal range of 3.5-7%, he said.
Fish oil prices remain particularly high as a result of supply constraints and rising prices for alternatives such as rapeseed and other vegetable oils. Crude fish oil, Bachis said, is selling for around $3,000 per metric ton, while human-grade oil has hit $3,500 per metric ton — the highest price on record.
Demand for marine ingredients remains strong, and fishmeal imports also hit record levels in 2021, driven primarily by demand from the aquaculture sector. IFFO anticipates aquatic trade may continue to set new records in 2022.