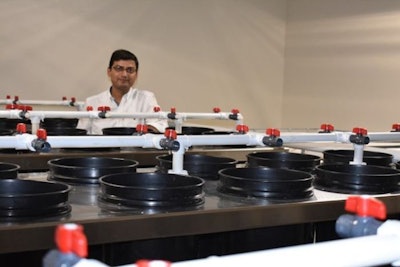 Moscow, Idaho, may be more than 300 miles from the nearest ocean, but this is where the Aquaculture Research Institute aims to develop sustainable aquafeed and find a means to make aquaculture profitable in the U.S.
Ronald Hardy, director of the Aquaculture Research Institute, relocated from Washington State University to oversee the development of aquaculture research at the University of Idaho, which he said saw an opportunity as other West Coast universities began to shift their focus from aquaculture to marine biology and wild fisheries. For years, the Aquaculture Research Institute has focused on freshwater production, becoming a leader in fish nutrition research while studying trout at a gravity-fed research farm in southern Idaho.
Last week, the Aquaculture Research Institute formally opened a second facility, located at the University of Idaho's Moscow campus, to expand its research to include marine species.
"If aquaculture is going to expand [in the U.S.], it's going to expand in the marine section," Hardy said. But he believes much of this expansion may occur in facilities such as his own — an artificial marine environment located miles from the shore.
Focus on the right species
The facility's location is happy coincidence — the University of Idaho had some extra space leftover after shuttering its poultry production research program — and deliberate. Although, globally, aquaculture is the fastest-growing livestock sector, the U.S. has fallen behind some international competitors. Popular species such as shrimp and tilapia are already produced efficiently elsewhere, so for aquaculture to thrive in the U.S., Hardy believes domestic producers must focus on high-dollar marine species.
Finding coastal properties suited to these species could prove difficult. Offshore aquaculture remains a controversial subject in candidate states such as California. And aquaculture must compete with urban development and recreational demand for near-shore resources. So Hardy believes the future of U.S. aquaculture is inland.
There are, of course, some challenges innate to inland aquaculture. Water resources are scarce and poorly managed, which is why the new Moscow facility features recirculated water systems. Such systems are notorious for wiping out marine species when disease infiltrates the facility, Hardy said, so biosecurity will be a key area of focus.
Testing alternatives to fishmeal
Researchers at the new Moscow facility will also focus on transferring their fish nutrition research to marine species. They will be testing various alternatives to fishmeal in aquafeed, and experimenting with soymeal in particular. Using soymeal instead of fishmeal in their feed, Hardy said, would not only improve the feasibility of inland marine aquaculture, but would represent a significant stride toward industrywide sustainability. The facility already has several commercial contracts to test the use of emerging feed products and ingredients, he said.
Raising marine species with artificial feeds has traditionally proven challenging. Unlike species such as trout and salmon, which Hardy argues are essentially domesticated, producers interested in marine species such as eels are "still dealing with wild fish," he said, which may not even recognize pelleted feed as edible. In experiments with wild cutthroat trout, Hardy said, the fish refused to eat anything they watched a human deliver.
"That tells you the extreme differences between marine species," Hardy said.