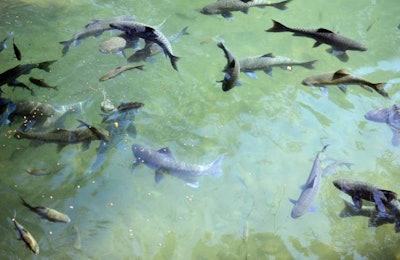 A study recently performed by researchers to better understand feed efficiency at the Johns Hopkins Bloomberg School of Public Health's Center for a Livable Future found that, unlike popular belief, farmed fish and shrimp convert protein and calories in feed to edible seafood at rates like livestock (i.e., cattle, pigs and chickens).
As the world population grows, the importance of aquaculture also grows. Therefore, researchers are looking for ways to better supply the world with seafood. Other research has considered ways to decrease fish mortality through nutrition.
According to the study from Johns Hopkins, expanding fish and shrimp production is an efficient way to expand the global supply, when compared with livestock. The study supports the idea that aquaculture and livestock have similar feed efficiency when using alternative metrics.
Efficiency of animal production is measured through a calculation called a feed conversion ratio. It calculates how a certain amount of feed is generated into animal weight or biomass. However, this method does not capture all important aspects of efficiency.
"The overall environmental footprint of feeds is impacted by many factors. This study compared protein and calories in feed and protein and calories in edible products, and then compared those results across 12 major farmed animal species," said Jillian Fry, PhD, director of the Public Health and Sustainable Aquaculture Project at the Center for a Livable Future and faculty member in the Bloomberg School's Department of Environmental Health and Engineering.
Researchers found that, for protein and calories, aquatic species were less efficient in converting feed into products for human consumption than previously thought.
The study estimated that "19 percent of protein and 10 percent of calories in feed for aquatic species are ultimately made available in the human food supply, with significant variation between species."
Chickens were found to be the most efficient.
"I argue that protein and calorie retention results should be used in combination with weight-based feed conversion ratios and environmental footprint measures, like water use. All of these measures provide different, important pieces of information," Fry said.
The study concluded that a better understanding of protein and calorie loss during each type of animal production is critical to understand the true impact of animal agriculture.