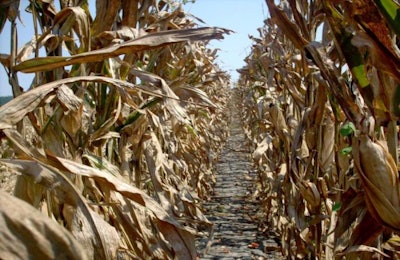 This season's first reports of zearalenone in U.S. corn have arrived, as well as additional reports of aflatoxin in corn and T-2 toxin in corn silage.
According to Neogen's Monday Mycotoxin report from October 23, Iowa and New York have reported zearalenone, Georgia has reported aflatoxin, and Iowa has reported T-2 toxin in corn silage.
These reports are added to the previous reports of mycotoxins in corn:
Tennessee (fumonisin)
Alabama (fumonisin and aflatoxin)
Iowa (deoxynivalenol)
South Dakota (deoxynivalenol)
Kansas (aflatoxin and fumonisin)
North Carolina (fumonisin)
Missouri (fumonisin)
Oklahoma (aflatoxin and fumonisin)
Texas (aflatoxin, deoxynivalenol, T-2 toxin and fumonisin)
New York (deoxynivalenol)
Pennsylvania (deoxynivalenol)
Minnesota (deoxynivalenol)
Nebraska (fumonisin)
Progress, condition and harvest
Ninety percent of corn has reached the mature stage, four points behind the five-year average. Only 28 percent of corn has been harvested, which is 19 points behind the five-year average.
Nine of the country's 18 corn-producing states report corn in double-digit poor to very poor condition:
South Dakota
Indiana
Michigan
Kansas
North Dakota
Nebraska
Iowa
Illinois
Wisconsin
Spotlight on deoxynivalenol in swine
Neogen provided a spotlight on deoxynivalenol in swine in this week's report. It said deoxynivalenol develops during warm, wet weather after corn silking and is one of the most important mycotoxins because it occurs frequently and at levels of toxicological relevance for swine.
Pigs are the species most susceptible to deoxynivalenol due to its rapid absorption, extensive distribution throughout the body, and poor metabolization.
The most common symptoms in pigs include decreased feed intake and immune suppression.