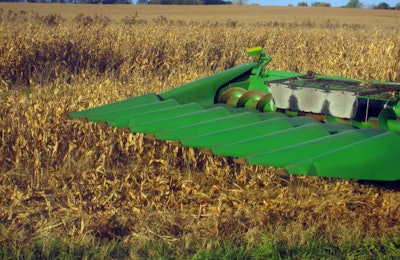 There has been a new confirmed report of fumonisin in corn in one U.S. state, while another state has seen its levels of the mycotoxin increase, according to Neogen's Monday Mycotoxin Report for October 2.
Kansas has reported fumonisin in corn, and Texas – which has previously reported the mycotoxin – has seen its levels increase to more than 30 parts per million.
These reports are added to the previous reports of mycotoxins in corn:
Kansas (aflatoxin)
North Carolina (fumonisin)
Missouri (fumonisin)
Oklahoma (aflatoxin)
Texas (aflatoxin, deoxynivalenol, T-2 toxin and fumonisin)
Neogen also said there have been reports of deoxynivalenol in corn silage in Minnesota, Pennsylvania and Iowa.
Corn progress and harvest
Ninety-three percent of corn has moved into the dented stage, two points behind the five-year average. Fifty-one percent of corn is in the mature stage, 13 points behind the five-year average. Eleven percent of corn has been harvested, six points behind the five-year average.
Corn condition remains the same as last week, and well below 2016 levels.
Ten of the country's top 18 corn-producing states report corn in double-digit poor to very poor condition:
South Dakota
Indiana
Michigan
Kansas
North Dakota
Nebraska
Iowa
Illinois
Colorado
Wisconsin