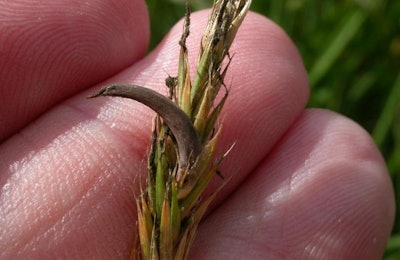 From WATTAgNet:
Experts at Scotland's Rural College (SRUC) are warning farmers about an increased risk of ergot fungus in animal feed grain.
"We have had reports of raised ergot levels on some farms in the Lothians and Borders. Our research colleagues running the SRUC Crop Clinic report receiving several samples from there with ergot. This would be consistent with their prolonged flowering season and local weather conditions then," said Dr. Basil Lowman of SAC Consulting.
Ergot is a fungal disease that primarily affects rye, triticale, barley and wheat, and which adversely affects the health and productivity of livestock.
The fungus produces the ergot responsible for the ergot alkaloid group of mycotoxins and parasitizes the seed heads of plants at the time of flowering. It is often seen in years where wet weather prevails in the spring and early summer, during the flowering stage of cereal crops or when low temperatures are present during grain fill.
Ergot infection reduces grain quantity and quality. It replaces grain kernels with poisonous alkaloid-containing ergot sclerotia – hardened bodies that are formed by the fungus.
Ergotism is one of the oldest known mycotoxicoses. Ergot alkaloids exert toxic effects in all animal species, and the most prominent toxic signs can be attributed to the interaction of ergot alkaloids with adrenergic, serotinergic and dopaminergic receptors. Ergot alkaloids have gained considerable relevance due to, among other things, ergopeptine-producing endophytes causing breeding problems in animals. The amount and pattern of alkaloids produced varies between fungal strains, the host plant and geographical region.
The term ergot alkaloid refers to a diverse group of some 40 toxins.
---
Farmers warned of increased risk of ergot fungus in grain – Experts from Scotland's Rural College are urging livestock farmers to beware of an increased risk posed by feed grain contaminated with ergot, a fungal disease that can be toxic to animals or humans.