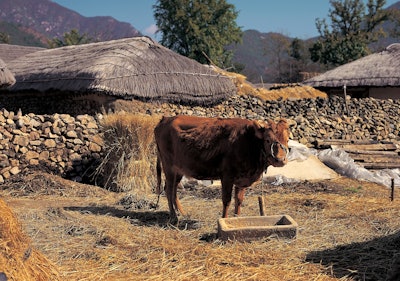 Jinyoung Lee | Dreamstime.com
For the first time in just over four years, foot-and-mouth disease (FMD) has been detected in cattle at three locations in South Korea.
This week, the infection was confirmed on three farms in North Chungcheong, according to the official notification to the World Organization for Animal Health (WOAH).
A total of 16 cases were detected out of 450 cattle on the premises. Each herd comprised between 68 and 216 animals, and no deaths were reported.
Based on information supplied to WOAH, all three farms were in Jincheon county. Two appear to be on adjacent properties, and the third is within 2 kilometers of the other outbreaks.
While the source of the infection is unknown, it has been identified as the "O" subtype.
South Korea's has been free of FMD since mid-April of 2019.
Affected premises were all farms with beef cattle near Cheongju, reports the Yonhap news agency. Located in central South Korea, the city is around 110 kilometers south of the capital, Seoul.
All the cattle at the three farms will be culled.
Furthermore, the authorities have imposed a 24-hour ban on the transportation of all susceptible animals — including pigs and goats — across the country. This is to reduce the risk of further spread of the FMD virus.
Since April, the government has rolled out FMD vaccines for all cattle and goats across South Korea.
More on FMD
FMD is among the 117 diseases listed by WOAH.
It is a severe and highly contagious viral disease of livestock, according to the organization. Affecting cattle, sheep, goats, swine and other cloven-hoofed animals, FMD can have significant economic impacts, causing morbidity and mortality, as well as disrupting trade in live animals and animal products.
WOAH estimates that the disease is circulating in almost 80% of world livestock, including Africa, the Middle East and Asia. Some parts of South America are also affected.
Caused by an Aphthovirus, seven strains — A, O, C, SAT1, SAT2, and Asia1 — of the FMD virus have become endemic in different parts of the world. Each strain requires a specific vaccine for its control.
Once introduced, the FMD virus can spread rapidly by both direct and indirect transmission, according to the agriculture department of Northern Ireland, DAERA. Main symptoms in affected animals are a high fever, followed by the development of vesicles (blisters), mainly in the mouth and on the feet.
While FMD is rarely fatal in adult animals, the infection causes severe pain and may lead to lifelong lameness. Infected young animals may die. Symptoms are less apparent in sheep and goats, the source reports.
Since the start of this year, WOAH has been notified about FMD outbreaks in several Asian countries: China, Iraq, Israel, Jordan, Palestine and Turkey.