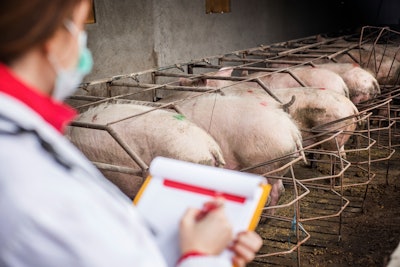 Dusan Petkovic | iStockPhoto.com
A bipartisan group of lawmakers has introduced the Foreign Animal Disease Prevention, Surveillance and Rapid Response Act of 2023, which reauthorizes animal disease prevention and management programs. The bill would also extend the Animal Health Protection Act through 2028.
The legislation was introduced by Sens. John Cornyn (R-Texas), Amy Klobuchar (D-Minnesota) and Joni Ernst (R-Iowa) and Reps. Ronny Jackson (R-Texas), Don Bacon (R-Nebraska), Jim Costa (D-California), Angie Craig (D-Minnesota) and Don Davis (D-North Carolina).
The National Pork Producers Council (NPPC) applauded the bill's introduction, calling it critical in protecting animal health.
"With threats of African swine fever and other foreign animal diseases (FAD) to livestock and poultry industries, having these provisions in the farm bill will ensure the U.S. remains positioned to deliver safe and affordable food to consumers worldwide," NPPC President Scott Hays said in a statement. "A FAD outbreak would immediately cripple the entire agricultural sector. Funding these programs is vital for our success as they support efforts to prepare, prevent and mitigate any FAD threats."
Also this week, Hays testified before the House Committee on Agriculture's Subcommittee on Livestock, Dairy and Poultry, outlining the tough economic challenges facing pig farmers. He said NPPC is hopeful the 2023 farm bill fully funds programs that are vital to ensuring animal health across species.
"The growing threat of foreign animal disease, specifically African swine fever, is of particular concern, and farmers need the tools to prevent and rapidly respond to an outbreak, should one ever occur," Hays said in his testimony. "The 'three-legged stool' of animal health laid out in the 2018 farm bill has set the course for what pork producers need in the upcoming farm bill."