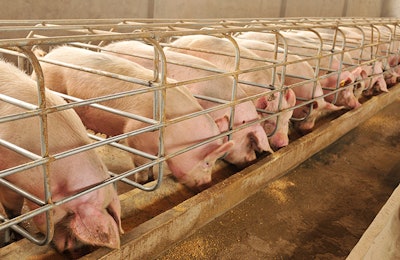 Enforcement of the law will be postposed until the U.S. Supreme Court weighs in on Proposition 12.
Massachusetts officials signed a court order delaying the enforcement of more restrictive pork housing laws until after the U.S. Supreme Court rules on California's Proposition 12.
Massachusetts' 2016 Question 3 ballot initiative will ban the sale of pork from hogs born to sows housed in pens that don't comply with Massachusetts' new standards. It applies to any uncooked pork sold in the state, whether it's produced there or outside its borders. Nearly all pork produced in the United States fails to meet Massachusetts' standards.
In December 2021, Massachusetts Gov. Charlie Baker signed a compromise measure that postponed implementation of the state ballot initiative until August 15, 2022.
As a part of the new court order, Massachusetts officials said that they would delay enforcement until at least 30 days after the Supreme Court ruling.
The delay was announced by the National Pork Producers Council (NPPC).
"This is a significant outcome as NPPC continues to push to preserve the rights of America's pig farmers to raise hogs in the way that is best for their animals and maintains a reliable supply of pork for consumers," said Terry Wolters, NPPC president and owner of Stoney Creek Farms.
"The impact of Question 3 would have been particularly harmful to those in surrounding New England states who did not have a vote in the 2016 Massachusetts referendum, nor any notice of the dramatic steps that activists had taken trying to force these harmful initiatives on voters in other states."
Supreme Court to weigh in on Proposition 12
California's Proposition 12 is similar to the Massachusetts ballot initiative; however the ruling is more comprehensive in that it would ban any uncooked whole pork meat sold in the state that does not meet specific sow housing requirements, regardless of where it was produced. Nearly all pork produced in the United States fails to meet California's standards.
The U.S. Supreme Court agreed to hear the case brought by NPPC and the American Farm Bureau Federation (AFBF) against Proposition 12 earlier this year.
"We share California's goal of ensuring animals are well cared for, but Prop 12 fails to advance that goal," AFBF President Zippy Duvall said in a March 2022 statement.
"We look forward to presenting the facts to the court, including how Prop 12 hamstrings farmers' efforts to provide a safe environment for their animals, while harming small family farms and raising pork prices across the country. One state's misguided law should not dictate farming practices for an entire nation."