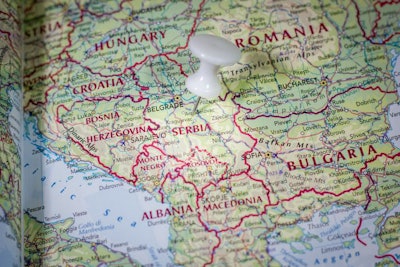 Serbia has reported four outbreaks of African swine fever (ASF) in backyard pigs in two districts.
According to the World Organisation for Animal Health (OIE), there were three outbreaks reported in Belgrade and one in Podunavski. The latest outbreaks, the first in the country, killed seven pigs and another 114 were culled. The outbreaks all were found relatively near each other.
In response to the outbreaks, Bosnia, Montenegro and North Macedonia have banned the importation of pigs, wild boar and related products from Serbia.
Other countries in the region hit by ASF
Serbia's neighbor Romania has been the worst affected by ASF this year in Europe, with more than 550 outbreaks. To the south, in Bulgaria, there have been more than 20 confirmed outbreaks of ASF this year. Bulgaria is reported to be stepping up its actions to control the spread of the disease, which appears to be spreading to domestic pigs in new regions.
In late July, Slovakia's agriculture ministry reported its first ever ASF outbreaks to the OIE. The ASF virus was detected in a backyard group of four pigs after one animal showed signs of the disease on July 23. Although the source of the infection is unknown, the affected premises is in Kosice, which shares a border with regions of Hungary where the disease has been detected among wild boar.
Members of the European Parliament for Bulgaria and Romania have called for EUR70 million (US$78 million) in financial support from the European Union to support their countries' efforts to control ASF. In response, European Union (EU) Health and Food Safety Commissioner Vytenis Andriukaitis said culling infected animals is the only way to control the disease, and that the EU is compensating up to 75% of the costs of disinfectants, cleaning of premises, and burial of infected pigs.
View our continuing coverage of the African swine fever outbreak.