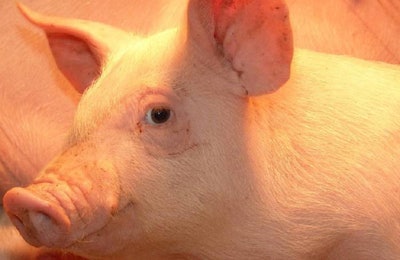 New Hope Group, based in China, has recently announced new investments in its overseas businesses in Vietnam and Indonesia, as well as a cooperation agreement in China to improve the control of African swine fever (ASF).
At the recent "Belt and Road" International CEO Conference for international cooperation, New Hope Group signed new agreements with partners in Vietnam for future expansion of the firm's pork and aquaculture businesses, and it continues to develop integrated poultry production in Indonesia.
Investment in Vietnamese pig industry
New Hope Group is constructing three new pig farms in Vietnam at a cost of CNY1.147 billion (US$170 million).
Total annual output from the farms — in the provinces of Thanh Hoa (North Central region), Binh Phuoc (Southeast), and Binh Dinh (South Central Coast) — will be more than 800,000 pigs after construction is completed in 2021, according to the firm's website.
Under these latest agreements, the Vietnamese government will provide the land and finances, and New Hope Group will supply the livestock, feed and veterinary drugs.
In 1999, Vietnam was New Hope Group's first foray into overseas investment as it set up just one feed company. Since then, the firm has expanded its interests to cover more of the supply chain, and it was already operating eight feed mills and three pig companies before the latest announced expansion. In 2018, the firm says, it produced a total of 700,000 metric tons of feed in Vietnam worth CNY2 billion.
The firm produces 70 different feed formulations for pigs, chickens, ducks, and aquatic species.
Expansion in other Asian agri-food sectors
With the view to tapping into the potential growth of the Vietnamese aquaculture sector, New Hope says it has also invested almost US$20 million in new facilities for the production, processing and export of aquatic products.
The firm is also continuing its investment program in Indonesia, which aims to complete the poultry meat supply chain from feed production and breeding to processed meat products for the consumer.
Agreement on development of new African swine fever (ASF) control measures
At a recent major agricultural event in Chengdu, New Hope Liuhe Co. announced an agreement with Harbin Veterinary Research Institute, which is part of the Chinese Academy of Agricultural Sciences, for the development of vaccines, and technology to prevent and control animal disease epidemics.
According to the company's web site, the agreement was signed for New Hope Liuhe by its president, Deng Cheng, and by the institute's director, Bu Zhigao.
"The Harbin institute is engaged in scientific research on the prevention and control of African swine fever," said Bu. "We have now signed a contract with New Hope, hoping to effectively promote the combination of production and research, realize the transformation of agricultural scientific and technological achievements as soon as possible, and serve the agricultural industry together."
ASF first hit the Chinese pig sector last year, and has caused heavy losses. As the result of 129 confirmed outbreaks to date across the country, it is estimated that 1.02 million pigs have been culled, and the sow population was 21 percent lower in March of 2019 than 12 months previously. The scale of the disease is having global impacts on trade in pork, other meats, and animal feed ingredients.
ASF has since spread to other Southeast Asian countries—including Vietnam—and has affected other regions, notably the wild boar population in some European countries.
Two months ago, New Hope Group denied experiencing negative effects of ASF in China, and says it is even benefiting from additional demand for its chicken business, as well as a high level of consumer trust.
Sustainable pig production model
Chairman of New Hope Liuhe Co., Liu Yonghao, outlined his company's five greatest achievements in recent years at another meeting at the recent Chengdu International Urban Modern Agriculture Expo.
Among the highlights he spoke about at was New Hope's development of a model for sustainable pork production, which combines modern technology with economic recycling, and environmental protection.
Oher key achievements identified by Liu have been the adoption of biotechnology, development of a national program for safe milk production, financial and digital support for the rural economy, and training of a new generation of professional farmers.
According to WATTAgNet's Top Feed Companies database, New Hope Group's affiliate company New Hope Liuhe is China's largest feed manufacturer and one of China's largest agri-husbandry enterprises. The enterprise operates across China and 20 other countries, primarily in Asia. New Hope Liuhe comprises the vast majority of New Hope Group revenues, controlling nearly 500 branch and subsidiary companies engaged in animal feed, livestock breeding and raising, meat processing and financial investments.
View our continuing coverage of the African swine fever outbreak.