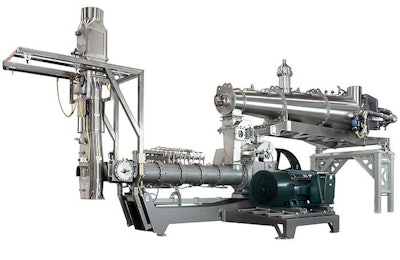 The feed industry developed its first extrusion technology nearly a century ago using steam and pressure to cook feed. Since then, the extrusion process has progressed to achieve a variety of production goals with an assortment of technologies.
Read the entire report about feed extrusion exclusively in the January issue of Feed Strategy.
From expanders to twin-shaft extrusion to dry heat and steam, the technique of using heat and pressure are tailored to fit different ingredients and objectives.
Dave Albin, Insta-Pro International's director of nutrition and extrusion technologies, explains that the different types of extrusion technology are available for a reason, which is to achieve a specific goal.
"There is no one-size-fits-all technology for the feed industry," he said. "Feed mills invest in extrusion technology to meet an end goal, like increasing digestibility, deactivating anti-nutritional factors and sterilizing."
Understanding how the equipment fits into a feed mill's equation is key.
For example, expanders utilize the high heat and pressure treatment to precondition ingredients before they enter a pelletizer.
"The expander serves as a multipurpose tool by hygienizing the feed, modifying the starch, and increasing the metabolizable energy," said Mitch Gorski, president of Amandus Kahl USA. "This allows for efficient pellet production and greater optimization of the feed mill."
The expander modifies the starch and helps bind ingredients together to make a better pellet that doesn't crumble easily during transport.
The expander is also suitable for producing a structurized individual feed mixture that is free from pathogenic germs, easily dissolves in water and has very good flow properties for easy discharge from silo cells or automatic feeders.
You'll also learn about: