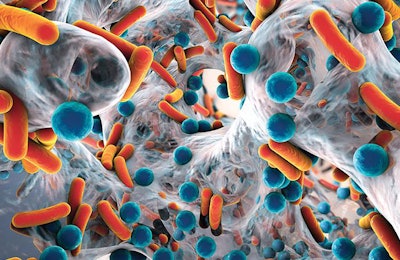 Researchers at China's Dalian University of Technology have found that fishmeal is a "major reservoir for antibiotic-resistant genes," and that the use of fishmeal in animal feed is contributing to the spread of antibiotic-resistant bacteria around the world.
"Our study implies that long-term and repeated feeding with fishmeal may accelerate the emergence of antibiotic-resistant bacteria and even pathogens," the researchers' findings say.
The study says fishmeal had "a previously underestimated impact" on antibiotic resistance in sediment beneath fish farms, something that had been largely attributed to the use of drugs on the stock.
For the study, researchers sourced fishmeal products from the U.S., China, Russia, Chile and Peru and set up marine sediment beds in a laboratory to examine the effects of the residue left behind by uneaten fishmeal.
The study found fishmeal increased the diversity and amount of antibiotic-resistant genes in the sediment. If those genes spread throughout the environment, there is a chance they can breed superbugs.
"In addition to mariculture production, fishmeal is also widely used in livestock, inland aquaculture, or organic fertilizer, and therefore the residual fishmeal in related ecosystems deserves more attention with respect to its impact on the bacteria resistome, even in the absence of prophylactic or therapeutic antibiotic use," the scientists wrote.
Issues with study's findings
The Marine Ingredients Organisation, or IFFO, issued a statement about the study's findings:
"This is a first study in the subject, and as such, we must exercise caution in how the results are interpreted without further confirmation of the findings. The work is also notable as having been undertaken on a very limited sample number (5 fishmeal products; 2 terrestrial animal products), and as such is not an extensive investigation," IFFO said.
The organization raised several issues with the study's findings, including the chance of contamination of samples, the lack of a sample control, and the limited sample size.
"It is important that a perspective is maintained in interpreting the results of a limited, early study, around which there are some questions about the sampling methodology. To extrapolate the results of a limited study to an important global supply chain is unreasonable without much additional information," IFFO said.