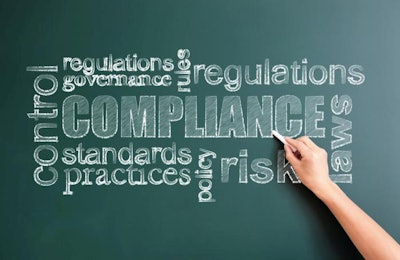 The U.S. Food and Drug Administration (FDA) announced it will delay Food Safety Modernization Act (FSMA) inspections for hazard analysis and risk-based preventive controls requirements until fall 2018 – a year after the original September 17, 2017, compliance deadline for large animal food facilities (companies with 500 or more employees).
"We believe it is both prudent and appropriate for FDA to delay inspections of this portion of the FSMA animal food rule to provide additional time for FDA to develop and issue guidance — which now isn't expected to begin until early next year — and to enable companies to focus on implementing the current good manufacturing practice provisions, which form the foundation of an effective animal food safety plan and which for the first time will apply to all animal food manufacturers," says David Fairfield, National Grain and Feed Association (NGFA) senior vice president for feed services.
Many companies remain uncertain of aspects of the hazard analysis and preventive controls requirements that need to be addressed by FDA through guidance, Fairfield said, so the inspection extension will be useful in "improving the prospect for successful education, training and inspection efforts to bring about compliance."
Richard Sellers, the American Feed Industry Association's (AFIA) senior vice president of public policy and education, agrees: "Producing safe, nutritious food in compliance with the law is the animal food industry's No. 1 priority. However, given FSMA's far-reaching and expensive regulatory impact that extends into all areas of our members' business operations, we have been asking the administration and Congress to provide a reasonable time frame so that our members can conduct the necessary actions they need and dedicate new resources to come into full compliance with the law. We feel that by providing a more reasonable deadline, FDA and its field staff will be able issue guidance documents that fully address our members' questions so that, no matter the size of the facility, the industry will understand their responsibilities in preparing for compliance. We appreciate the FDA recognizing the industry's concerns of the amount of work that must be done and look forward to continuing to work together to achieve compliance."
Dr. Steve Solomon, FDA Center for Veterinary Medicine director, made the announcement at the Association of American Feed Control Officials (AAFCO) annual meeting in Bellevue, Washington. During his remarks, Solomon also provided an update on the agency's work to publish guidance on the FSMA animal food rule, stating the agency hopes to issue final current good manufacturing practice (CGMP) guidance by the end of 2017 and the first portion of draft preventive controls guidance by "early" next year. FDA's guidance for the preventive controls will consist of several separate documents, with the first document addressing food safety plans, hazard analysis, animal food hazards, preventive controls and preventive control management components.
In addition, consistent with the delay of inspections for the preventive controls requirements, Solomon said FDA will not start inspections at animal food entities covered by the FSMA-related foreign supplier verification program (FSVP) rule until fall 2018.
Solomon stressed that importers of foreign animal food products should be working now to obtain their Data Universal Numbering System (DUNS) number as part of complying with the new requirements.
Next phase of implementation
In a related development, FDA recently provided more information about upcoming FSMA compliance dates. In a question-and-answer article posted on the agency's website, Jenny Murphy, consumer safety officer at FDA's Center for Veterinary Medicine, explained what animal food facilities can anticipate in the next phase of implementation. Murphy noted there will be an increased level of FDA oversight of CGMPs with more routine inspections occurring after the September compliance date.
The September 18, 2017, date is when small animal feed facilities (facilities that are part of a company with less than 500 employees) are to be in compliance with the CGMPs. FDA expects to conduct at least 500 animal food CGMP inspections during fiscal year 2018, which runs from October 1, 2017, through Sept. 30, 2018.
While large companies also will be required to meet the preventive controls requirements on September 18, she noted FDA will not be conducting routine regulatory inspections for those requirements until fall 2018.