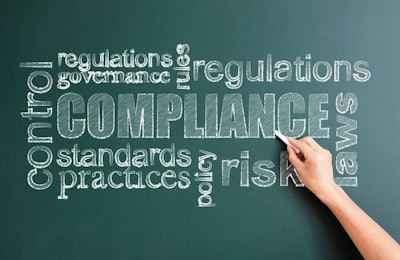 Centerra Co-op will close its animal feed mill in Jefferson, Ohio, because it would cost too much to bring it into compliance with the Food Safety Modernization Act (FSMA).
Bill Rohrbaugh, vice president of feed operations at Centerra, told WATTAgNet in an interview that upgrades to the facility would have cost at least $500,000, and the mill is not profitable enough to warrant the cost. The mill is expected to close in September.
"That facility is an old facility and nothing really had been done to that facility for a lot of years," he said.
The mill uses a lot of floor storage, which FSMA prohibits.
"To address that, we'd have to put in some overhead ingredient bins and that was going to be extremely costly," he said.
The cost to upgrade from flat storage to overhead storage would have been approximately $250,000. In addition to that, the facility had electrical issues that needed to be addressed and the mixer was inefficient.
"Before you knew it, we were at the half-million dollar mark pretty quickly," Rohrbaugh said.
Closure not a result of recent merger
The former owner of the feed mill, Western Reserve Farm Cooperative, and Town and Country Co-op of Ashland merged March 1 to become Centerra Co-op.
However, Rohrbaugh said, "the merger had nothing to do this. Whether we merged or not, they were going to have to address these regulations."
Centerra operates another feed mill about 90 miles from Jefferson in Sterling, Ohio. That location will remain open and Rohrbaugh says he hopes Centerra can serve former Jefferson customers from Sterling.
"Our goal is to retain as many tons as we can," he said. "I'm optimistic we can still meet the needs of our customers."
Rohrbaugh said the Jefferson facility was built in the 1950s, while the Sterling facility was newer and had gone through a "huge remodel" in 1991 as well as other upgrades to comply with FSMA, so it made business sense to shut down Jefferson and maintain production in Sterling.
Also, Rohrbaugh said there are more dairy cows in the area serviced by Sterling than in the Jefferson area, which affected profitability at Jefferson.
"In that market … we're losing cow numbers. We looked at the cow numbers in northeastern Ohio and western Pennsylvania and they're going down. That affects the profitability of an operation like that," he said. "If the cow numbers were there … to support that facility and we were making a reasonable bottom line … we could spend a half a million dollars there. But that just wasn't the case."
Retaining employees
Rohrbaugh said the six employees from the Jefferson feed mill will be transferred to other positions within Centerra Co-op.
"My goal is to try to find jobs for those guys maybe not in the feed business but maybe doing something else," he said.