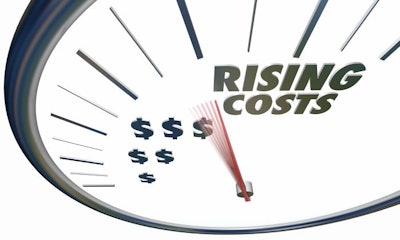 Feed experts trade strategies to cope with high commodity, energy costs at international event
Feed mills must begin planning now for additional supply shocks and soaring energy prices as the European Union heads into winter with the conflict in Ukraine still raging, according to industry experts who participated in last week's FeedTechnoVision livestream.
Energy prices have escalated five to 15 times their typical levels since Russia invaded Ukraine, driving up commodity, shipping and operating costs for feed mills, according to Robert van den Breemer, procurement director for macro ingredients at Nutreco. While the war's immediate impact on prices seems to have waned, van den Breemer said, costs remain elevated above their pre-COVID levels. And with the Ukrainian conflict ongoing and growing strife between the U.S. and China, he said, there's no knowing where prices will go from here — though he said they don't seem likely to decline anytime soon.
"I have been in sourcing for three years now, so I don't know what normal is, what normal was, or what normal will be," van den Breemer said. "We are in unprecedented times, with challenges in raw materials, logistics and climate change, and sourcing ingredients will not get easier going forward."
Experts joining van den Breemer proposed several strategies for overcoming potential shortages in the months to come, such as working with more diverse suppliers, identifying local alternative ingredients and keeping larger quantities of grain in storage.
"Given the situation we are in, we have to look at every opportunity that we have to get what we need," van den Breemer said. "There is no sacred house — everything should be discussed."
But each of these strategies, they said, also comes with its own pitfalls. Sourcing ingredients from local farms is a great idea, van den Breemer said, but if 100,000 tons of grain isn't available in your area, it's not available. Similarly, diversification should be an essential part of any procurement strategy — but if a particular ingredient is only produced by a single country or company, there's little that can be done.
"You should never be dependent on one supplier," van den Breemer said. "But if the only production is in China then it is what it is — and this is a challenge."
If you can get an ingredient from your neighbor, van den Breemer said, you probably should now that COVID-19 has demonstrated the fragility of global supply chains. But where you can't, he said, planning and transparency are key. It's not just suppliers that millers need to communicate with, he said. Staying in touch with customers may also prove critical, because it can enable you to anticipate when a large order may come in.
"The name of the game is creating flexibility," van den Breemer said. "If there are delays, you need to know about them so you can adapt. Look into storage — maybe it makes sense to store ingredients close to you to keep that flexibility."
Storage, however, can also decrease the quality of feed ingredients in a relatively short time — with degradation beginning in a matter of days under some circumstances, according to Paul Koolen, livestock program manager for the Middle East and Africa at Trouw Nutrition.
Another option, according to feed mill consultant Ernst Nef, is to consider the final format for feed products. Pellets are now the most popular option for most species, he said, but the pelleting process accounts for the majority of a feed mill's energy consumption, and moving away from pellets can reduce energy use by as much as 60%.
However, Koolen noted that skipping the pelleting process can introduce safety risks because of the lack of heat treatment.
"We have to accept that sometimes the product coming in doesn't have the quality that we used to have," said Geke Naaktgeboren-Stoffels, global director of quality at Trouw Nutrition, "so we need to preserve it better, take much more care, and probably do a lot more testing."
Perhaps the most important strategy of all, she said, is to devote time to long-term risk assessment and planning.
"It's very important to prepare for the worst," Naaktgeboren-Stoffels said. "It sounds negative, but rather than thinking, 'I wish it was going to stop, I wish we had peace' … act upon it now rather than hoping it will go away."