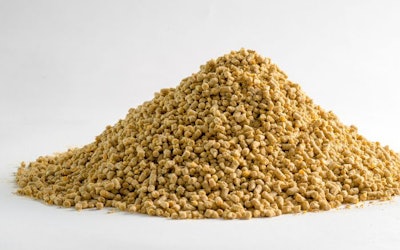 Jackie Roembke, editor in chief of WATT Feed brands and Feed Strategy, talks about the animal feed manufacturers that made the cut and how the annual listing is generated.
PODCAST: World's Top Feed Companies: Who made this year's ranking? (9:08)
Ann Reus: Hello and welcome to the Feed Strategy podcast. I'm your host, Feed Strategy senior reporter Ann Reus.
The September/October issue of Feed Strategy features the latest rankings of the World's Top Feed Companies. Jackie Roembke, editor in chief of WATT Feed brands and Feed Strategy, joins me to talk about the feed manufacturers that made the cut and how we at WATT Global Media generate the annual listing.
Hi, Jackie, thanks for joining me once again.
Jackie Roembke: Hi Ann, thanks for having me on your show.
Reus: Can you explain how the Top Feed Companies ranking comes together?
Roembke: Yeah, the 2022 edition of the Top Feed Companies report features 144 global feed manufacturers who produce 1 million metric tons or more of compound feed in 2021. The featured companies, their tonnage and the master ranking table that we run in the magazine is drawn from our exclusive Top Feed Companies database that we have hosted on FeedStrategy.com. Our research team is constantly working to gather the most recent and accurate data and constantly updating our records. So, we choose to report on the production of the previous calendar year to get as close as we can to the actual volumes as possible, providing more reliable information from annual reports and other sources. So, we keep an eye on growing operations, too, that are hovering near the 1 million metric tons point, primarily because we've seen companies cross over since WATT began producing this report about a decade ago. So, for those who don't know, the Top Feed Companies database does also feature the latest news and data points on roughly 200 global feed companies. So, it's worth logging on and kind of spending some time digging around to kind of see where this data comes from, and all the historical information that we do have housed there.
Reus: So, there was a bit of a shake up in the top 10 this year. Tell me more about that.
Roembke: So, as I mentioned, we're always updating our data as this new information becomes available. So, of course, in our most recent report, Thailand's CP Group continues to hold the No. 1 position, and the New Hope Group out of China remains No. 2. However, this year, China's Haid Group assumed the No. 3 slot, jumping from No. 6 last year, which was the data from 2020. So that would be the biggest change. And that of course, is due to information and growth that they've had in their operation. So beyond that, though, the U.S. feed leaders include Cargill, who comes in at No. 4 and Land O'Lakes at No. 5, so those two companies stay on top while Muyuan Foodstuff during the top 10 ascending from the No. 30 position last year to No. 6 on this year's report. So those would be two of the most notable changes would be that No. 3 and No. 6 spot. And then also, taking it a step further, we have the Shuangbaotai Group (Twins Group) that moved from No. 12 to take No. 7, tying with JBS SA. And both those companies produced 11 million metric tons and '21. Then we saw Brazil's BRF come in at No. 9 despite seeing a sizable decrease in its production. So, they were down about 400,000 tons in 2021. And then we had three companies tying for the No. 10 slot. We saw the Netherlands' ForFarmers, U.S. based Tyson Foods and Wen's Food Group, which actually, Wen's dropped down from last year's No. 5 position to take the No. 10 slot. And all three of those companies produced 10 million metric tons of feed last year.
Reus: We had some new data come in on Asian companies. How did that change the rankings for that region?
Roembke: Yep, so due to the discovery of new information from the feed industry consultant that we work with who specializes in the Asian market, we added five new companies to the list in 2022. Of those companies, four are located in the Asia-Pacific region, so three in China and one in Malaysia. And this new information brought the total companies located ranking in the region up to 55 and bumped the regional tonnage up from roughly 118 million metric tons last year, to almost 270 million metric tons in 2022's report.
Reus: Which companies saw the biggest gains and decreases in tonnage?
Roembke: So, much of the movement took place among Asian companies. So, for example, if we're going to look at the Chinese feed producers who saw changes last year, Wellhope Agri-Tech rose to No. 15 from No. 52, and that was from last year's report. And Sichuan Tequ Group jumped to No. 24, and that's up from No. 63. Pig and poultry feed producer Shandong Backbone Group took the No. 31 position up from No. 61 last year. And that's just to name a few, there are others cited in the full report that appears in our September/October issue. And Japan's Feed One moved from No. 38 to No. 43. And South Korea's Harim Group added volume, moving them from No. 23 up to No. 20. And then meanwhile, looking over to South America, Brazil's Lar Cooperativa AgroIndustrial Group grew its volume to take the No. 110 slot versus its positioned last year, which was 122. And they increased their production by 200,000 tons. Looking at decreases, so Ukraine's MHP Group was already kind of on a decrease in '21, prior to the conflict with Russia. So they moved down from No. 60 down to 85. And, no doubt, when we produce our 2023 report, all the conflict in the region will definitely be reflected in their volume. And then also, looking into other parts of Europe, Royal Agrifirm Group's production dropped, moving the Dutch agrifood giant from No. 19 in 2020 down to No. 26. And Danish aquafeed producer Biomar Group slid from No. 108 to 120. So, just some trends to watch there. More information again in the full report. And also, if you're from one of these companies that we have represented on the list or in our database, if you disagree with our data, by all means please reach out to us and feel free to correct us and put us in touch with somebody in your company who can provide the most recent data, and we will gladly update it in our database, and then have it ready for the next report in 2023.
Reus: OK, some good information there for our listeners. Did anything surprise you or really stick out about this year's rankings?
Roembke: So, this year, 144 top companies were on the list and, of those, when we added the total, they produced nearly 522 million metric tons of compound feed. All right. So that's 42% of 2021's total global tonnage. Now, when I first wrote my first Top Feed Companies report back in 2014, we only featured 97 companies, and those companies produced 301 million metric tons, or about 36%. And that was looking at the volumes of 2013. So, for me, Ann, yeah, a portion of these changes represent new additions to the database. But what it also shows, and what I think is most exciting to write about year after year, is seeing the growth of the industry. So, for example, in less than a decade, just think back at all the mergers the industry has seen and the other macro trends that have shaped production, from disease challenges to political strife, and just basic shifting of consumer demands. So, to answer your question, this report really highlights the strength and growth of the animal protein sector worldwide. So that, to me, is what's the most notable.
Reus: All right, well, thanks for all those great insights, Jackie.
Roembke: Of course.
Reus: As Jackie mentioned, you can find the entire listing of the World's Top Feed Companies in the September/October issue of Feed Strategy and profiles of each company at FeedStrategy.com.
Thanks for listening. I'm Ann Reus for Feed Strategy.