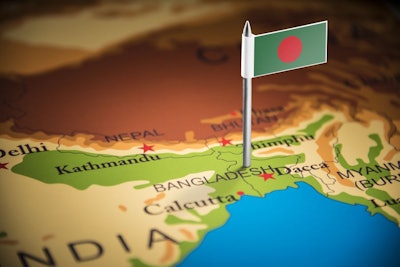 With the view to possible future exports of poultry products, there are calls for the nation's commercial poultry and feed producers to register their businesses.
As the next step on the path to better food safety in Bangladesh, it has been proposed that the country's commercial poultry farms and feed mills are registered.
This call came from Moshiur Rahman, president of the country's branch of the World's Poultry Science Association. He was speaking at an international meeting on safe and sustainable poultry production in Dhaka last week. According to The Business Standard, this South Asian state is exploring the possibility of starting poultry exports.
In his address, Rahman stressed the importance of safe poultry meat and eggs. Compared with beef, poultry represents an affordable protein source for consumers of all ages.
He added that it is the sector's responsibility to maintain — even improve — standards of Bangladeshi poultry products. Starting with registration of commercial premises, Rahman called for better waste management as one important way to encourage safety standards.
For Dr. Monjur Mohammad Shahjada, increased use of probiotics and prebiotics in poultry feeds is an indication of improvements in terms of safe production, reported Financial Express.
According to the head of the Department of Livestock Services, this trend points to reduced reliance in Bangladesh on the potentially risky antibiotics in poultry.
To produce safe poultry, Dr. Santiago Ramirez stressed the need to pay attention to each stage in the production chain. Starting with the selection of feed ingredients, this continues with health and welfare issues throughout the bird's life — within and outside the poultry house.
Tax rises proposed for the poultry sector
Recent government plans to raise taxes on the sector have not been welcomed by Bangladesh's already hard-pressed poultry industry.
At the end of May, The Business Standard reported that the tax-free income limit is set to halve from the next financial year — from the current BDT2 million (US$21,530) to BDT1 million. For earnings of BDT1 million to BDT2 million, tax will be levied at 5%. Rates are set to increase on a sliding scale up to 15% for those with incomes over BDT3 million. Currently, these higher earners pay 10% tax.
Not only are rates set to rise, the finance ministry is also set to apply these tax rates to poultry hatcheries.
For the Feed Industries Association of Bangladesh, Nazrul Islam said costs of chicken production already exceed the selling price. He described the government's plan to raise taxes on this sector as "very frustrating."
In Bangladesh, annual production of chicken eggs is almost 559,000 metric tons (mt), and more than 210,615 mt for chicken meat. These are the latest figures for 2020 from the statistics arm of the United Nations' Food and Agriculture Organization, FAOstat.
Latest developments in the feed industry
One month ago, it was announced that two of the country's feed companies are teaming up to increase production and sales. Under this cooperation agreement, Star Feed Mills will become a contract manufacturer for poultry feeds for Aman Feed.
Since the start of the coronavirus (COVID-19) pandemic, feed companies have experienced disruption to raw material supply chains. As a result of rising commodity prices, some Bangladeshi feed manufacturers cut back production.