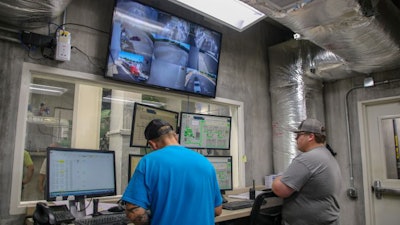 Automated systems inform feed management decisions, add value as rural labor pool shrinks
As rural communities lose residents to larger cities, investment in technology that can operate, collect and interpret data will be critical to overcoming labor shortages while increasing productivity in the animal feed industry.
Collecting data with facility automation software puts information at management's fingertips, ultimately making better use of employees' time and effectiveness. Data can be used to inform decisions about every facet of business from how to prioritize capital investments to making inventory adjustments to optimizing energy usage and more.
Labor influences technology
The thinning labor pool has influenced crop production advancements for decades. Technology ranging from autonomous combines and tractors to crop scouting drones and weeding and seeding robots were all prompted by the need to meet rising demand for food using less manpower. Those advances, combined with biotechnology, contributed to increasing total U.S. corn yields (tons per acre) by more than 360% since 1950, according to the American Farm Bureau Federation (AFBF).
In commercial animal food production, feed mill controls have been embraced to automate operations like routing and batching, but automation systems can do much more than replace manual equipment switches. They collect data that will eventually be used to automate decision making, the next phase in the evolution of automation.
"Feed mill automation systems capture thousands of data points each day," said Brady Gaalswyk, vice president of sales, Easy Automation Inc. "There are vast amounts of information being collected in every process during operation. Today, the goal at the forefront of the industry is to condense the data and deliver it in a way that is easily accessible, provides relevant insights and can aid in decision-making."
Using data-based information — or artificial intelligence — for certain functions can divert human capital to functions that cannot be automated.
"Being able to oversee multiple operations from a common control station frees people from having to manually run equipment and allows managers to shift the responsibilities of plant operations from many people to fewer, highly trained people," said Jeff Martin, business development, Repete Corp.
"For example, automation system data can rapidly identify equipment faults or issues. The time spent investigating and identifying resolutions can now be spent fixing the issues and bringing the equipment back online," Martin said.
Using data to glean valuable insights into equipment maintenance can result in reducing the amount of training required for an employee to be effective at their job.
"If you think back to years ago, an operator was expected to know if a piece of equipment was beginning to fail based on a change in the sound that it made or be able to direct an ingredient through a maze of conveyors based on memory of what distributor needed to be turned," Gaalswyk said. "But all of this can be accomplished by the click of a button to an image on the screen."
Today, systems can track equipment run time and behavior characteristics and notify a manager when scheduled maintenance is needed. The systems can also give indication that a potential failure is near through the data collected and can send an alert for management to act upon.
Over time, the information can assist with return on investment calculations for a variety of projects and upgrades, helping managers make decisions with additional data-based confidence.
"The data collected is also used to identify where the bottlenecks of a facility are," Gaalswyk said. "Utilizing the data collected, managers can analyze and evaluate what their top challenges are. Once they have those challenges listed out, they can make decisions on investing capital dollars in areas that are going to accomplish their goals, whether that's production capacity, labor requirements or energy requirements."
Energy optimization
The right combination of data, automation capabilities and electrical specifications can have a drastic impact on energy optimization. Limiting peak demand and improving the longevity of individual pieces of equipment are two chief benefits, according to Gaalswyk.
"This is possible by collecting and analyzing data points to identify trends and give enhanced visibility to both the peaks and valleys," Gaalswyk said. "All to be able to find and capitalize on opportunities for optimization."
Trends that show increasing energy, horsepower or workload to produce expected results can indicate equipment components are experiencing wear and tear or stress issues that need to be checked for tuning or replacement, Martin added.
"Tracking and comparing peak-time usage, and frequency of ramp-up procedures on large equipment and motors, can contribute to energy optimization through production schedule optimization," Martin said. "Utilization of variable speed drives can also mitigate the impact of high-energy devices."
The future of data
In the future, as the IoT progresses and data will be collected from even more equipment and processes, data logs will increasingly become required for any company's investment decisions. Experts predict the future holds easier access to data, greater transparency and increased connectedness between equipment suppliers and end users.
"I see increased collaboration between equipment manufacturers and control systems to enhance the predictive maintenance capabilities," Martin said, "as well as more safety and measurement devices providing real-time status feedback to enhance the overall efficiency of equipment control."
Gaalswyk said with all the challenges the industry must overcome in the future, increasing the ease of use is a top goal for Easy Automation Inc.
"Mill managers are faced with labor shortages, supply chain issues and the never-ending demand to increase productivity. They don't have the time to dig through data that is hard to understand and hard to use. Thousands of data points don't do any good unless it is delivered in a way that gives managers the tools needed to make meaningful decisions. We are continuing to fine tune how we deliver data through our reporting capabilities to achieve that 'ease-of-use' stamp," Gaalswyk said.
---
3 trends to impact the future labor pool
Rural relocation to urban areas. Labor force participation rates in rural areas among 25- to 64-year-olds decreased more than three times the rate of urban areas between 2007 and 2019, according to the U.S. Department of Agriculture's Economic Research Service. The disproportionate decrease reflects a slower recovery in rural America after the Great Recession and hints that workers chose to relocate for work in urban areas. Lowered population paired with aging communities means the heartland will continue to struggle with labor availability.
Remote work adaptation. As rural broadband increases reliable internet access to rural populations, more employment options will be available to them. Thanks to widespread remote working conditions, prospective employers will be able to tap into the already shrinking rural labor pool.
Rapid tech advancements. Automation has changed the job expectations and skills required to work in the feed industry, and technology will only speed up this evolution. In fact, 85% of the jobs needed in 2030 don't even exist yet says Rob Russell, University of Missouri Extension director of labor and workforce development. Nothing is certain about the types of jobs, or the job security, needed at feed mills in the future.
---
Data points to collect now for future interpretation
Lot/inventory location tracking, work order progress for feed production
Ingredient usage and trends
Actual weigh-up time of each ingredient in each formula
Weigh-up time by ingredient and by specific scale
Variance of each respective scale in relation to actual used vs. ordered
Flow rates of ingredients and how that impacts free-fall time and batching cutoffs
Error events and causes, such as item runout, over tolerance, scale fluctuations, etc.
Equipment control errors including alarms for speed, amps, plug events, bearing temperatures and treading, etc.
Equipment runtime measurements, including uptime, speed and energy usage
---
Announcing the Feed Mill of the Future digital supplement

WATT's feed brands Feed Strategy and Feed & Grain magazines join forces to launch the monthly Feed Mill of the Future digital supplement. Each edition aims to provide animal feed industry stakeholders with forward-looking content, market insights and a spotlight on the leading-edge technologies shaping the global feed industry of tomorrow.

Subscribe today! https://bit.ly/3dWzow7