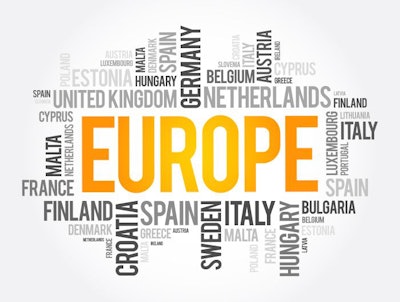 Legislation due to come into effect in September paves the way for the limited inclusion of processed animal protein (PAP) and insect meals in feeds for poultry, swine and other non-ruminant farmed animals in the European Union.
Last week, the European Commission (EC) passed legislation that authorizes the use of some processed animal protein (PAP) and insects in feed for poultry and pigs.
Published in the Official Journal of the European Union on August 18, Regulation EU 2021/1372 only allows for limited applications of selected materials. Underlying the legislation is to ensure the prevention, control and eradication of transmissible spongiform encephalopathies, including BSE.
Provisions of the new regulation
Under the new legislation, three new provisions are authorized.
First, PAP derived from pigs and insects may be included in feeds for poultry. Second, diets for pigs may contain PAP derived from poultry and insects. And third, gelatin and collagen from ruminants will be permitted in feeds for non-ruminant farmed animals.
Under the new regulation, strict conditions will apply. Among these are the prevention of cross-contamination throughout the supply chain to ensure that no form of cannibalism can occur. Furthermore, there must be official control over the whole process.
Recent developments support easing of feeding restrictions
With a key policy objective to improve the sustainability of the food chain, the EU regards extending the use of avian and porcine PAP in feeds for pigs and poultry, respectively, as consistent with the circular bioeconomy concept. Thus, the proposed regulation contributes to food security in the region, as well as to reducing waste.
Relaxation of the original ban on all animal proteins that came into effect in 2001 has been made possible after detailed investigations into the safety of these materials, stricter controls over their production, transport and traceability, and the development of effective tests to distinguish between PAP from different species. Furthermore, it has been five years since the last classical BSE cases in the EU.
The new legislation comes into effect on September 6, 2021.
What does the latest legislation mean for European feed manufacturers?
This legislative changes represent the latest developments in the lifting of the feed ban on the use of PAP and insect meals, according to the European federation of feed manufacturers, FEFAC.
In the EU, PAP is defined as a product manufactured from category 3 animal byproducts. This covers parts of animals, such as bones and offal , from non-ruminant animals controlled as fit for human consumption at the point of slaughter. Furthermore, the manufacturing of PAP is subject to strict processing requirements aimed at securing their safe use in feed animals. This process can only be carried out an approved facilities.
In 2013, avian and porcine PAP were reauthorized for fish feeds. Four years later, insect PAP was allowed in fish diets.
In recent years, PAP has been used in the EU mainly as an ingredient in pet food, while ruminant PAP has been permitted as a fertilizer. These materials were also exported outside Europe.
Commercial impacts of the new regulation
According to FEFAC, scope for increased use of avian and porcine PAP will be "significantly" limited by the strict conditions for the production of these raw materials.
For insect PAP, the association does not expect the material to be cost-effective in feeds for poultry and pigs — at least in the foreseeable future. Currently, production of insect PAP in the region is low, and it goes mainly into pet foods and the aquaculture sector.
Ban remains in place for meat and bone meal
Under European law, meat and bone meal (MBM) is defined as a product manufactured from category 1 and 2 animal byproducts. In contrast to PAP, these are not regarded as fit for human consumption as they come from fallen or euthanized animals.
Since the emergence of the BSE crisis 20 years ago, use of MBM as a feed material has been banned because of a link established between the material and the disease. According to FEFAC, the new Regulation does not affect the ban on MBM in animal feeds. So MBM will continue to be used as source of green energy, and as a raw material for industrial applications.