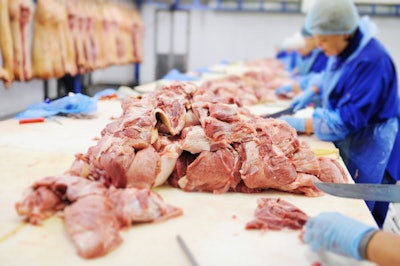 Once project is completed at facility in Columbus Junction, Iowa, all Tyson pork plants will use controlled atmosphere stunning methods
Tyson Foods is installing controlled atmosphere stunning (CAS) equipment at its pork plant in Columbus Junction, Iowa. When the transition is completed, all of Tyson's pork facilities will use CAS technology.
The company is receiving financial assistance for the project from the Iowa Economic Development Authority (IEDA). According to a press release from IEDA, the project for the Tyson Fresh Meats facility – which includes the addition of new equipment and certain modifications – represents a capital investment of nearly US$15.4 million, and was awarded tax benefits through the IEDA's High Quality Jobs (HQJ) program.
Ten jobs are expected to be created as a result of the plant modifications, and eight of those 10 jobs are incented at a qualifying wage of US$19.65 per hour, IEDA stated.
"Controlled atmosphere stunning (CAS) is one of the methods used to harvest livestock for meat. We currently use this method in most of our pork operations. We've done extensive research into the use of CAS and found it to be an acceptable alternative to electrical stunning. Our Louisa County plant is the final pork plant to implement this process, and the positions associated with the tax credits are related to implementing the CAS process at the facility," Tyson Foods said in a statement.
The plant produces fresh, boxed pork for shipment to foodservice and retail customers around the world. The facility was idled for about two weeks in 2020 due to an outbreak of COVID-19 among workers at the plant.
The Columbus Junction plant this year was honored through the North American Meat Institute (NAMI) Environmental Recognition awards.
Tyson Foods, headquartered in Springdale, Arkansas, in addition to being a major pork producer, is also the largest broiler producer, the third largest feed company and the fifth largest turkey producer in the United States.
Other companies to receive assistance from the IEDA in the latest round of HQJ program awards include Fluid Quip Technologies, Monogram Food Solutions, Cemen Tech and Calcium Products.