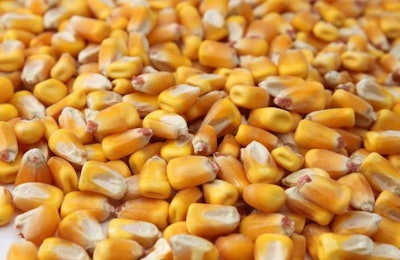 Bumper crop increases availability of corn for animal feed
The Philippine Association of Feed Millers said its members would purchase more corn from local farmers, as a bumper crop increases availability.
Sarmiento Garcia, president of the Philippine Association of Feed Millers Inc. (PAFMI), also said the group would secure contract growing with corn farmers. The agreement, which is still being negotiated, would guarantee that feed millers would buy local corn and the Department of Agriculture would provide technical assistance.
The Philippine Maize Federation Inc. (Philmaize) and the Philippine Chamber of Agriculture and Food Inc. (PCAFI) recently asked the government to curb imports of feed wheat because it lowers domestic corn prices.
Filipino corn production in the marketing year ending June 2019 was 7.7 million metric tons (mmt), according to U.S. Department of Agriculture estimates, on an area of about 2.5 million hectares. Production was down from the 7.98 mmt for the previous 12 months, with average yield almost 3.1 mt per hectare. A further 900 mt corn were imported, and 6.65 mmt were used in for animal feed. In 2017 — the most recent year for which figures have been published — the country was 94% self-sufficient in corn, according to the Philippine Statistics Authority.
In the Philippines, hog feeds comprise 60% of animal feed production and poultry feed is 30%.
According to Feed Strategy's 2019 World Feed Production Trends survey, the Philippines increased its compound feed production by 7.5%. The major Asian producers – China, India, Japan, Thailand, South Korea, Vietnam, Indonesia and the Philippines – produced 35% of world's compound feed in 2018.
Last year, the Philippines began sorghum production trials to supplement domestic corn for livestock feeds, and testing to improve soybean cultivation. The National Sorghum Development Program was launched by then-Agriculture Secretary Manuel Piñol in November 2018 to complement a government initiative for sustainable corn production to support the growing poultry and livestock industry in the Philippines.