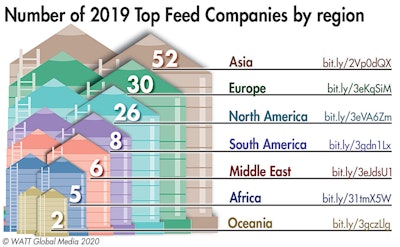 Annual report highlights global compound animal feed manufacturers producing volumes over 1 million metric tons in 2019
One hundred and twenty-nine animal feed manufacturers worldwide reached or exceeded 1 million metric tons of compound feed production in 2019, according to WATT Global Media's Top Feed Companies database. The 2020 Top Feed Companies report and the ranking of last year's largest global feed producers were derived from the exclusive feed industry data compiled by WATT Global Media's research team.
To capture the most accurate information, Feed Strategy's annual Top Feed Companies analysis focuses on the previous calendar year's compound feed volumes.
Leaders in feed production
The top 129 feed producing companies manufactured nearly 437.6 million metric tons of compound feed in 2019. To put this in perspective, according to Alltech's 2020 Global Feed Survey, 2019's global compound feed production volume exceeded 1.126 billion metric tons, meaning these companies represent 39% of the world's tonnage.
From a regional perspective, many of the firms featured in this year's listing are headquartered in Asia (52) and Europe (30). Twenty-six are in North America; eight in South American; six in the Middle East; five from Africa and two in Australia.
2019 ranking highlights
The Top Feed Companies of 2019 report features 129 animal feed-producing companies compared to 102 included in the 2018 recap. The most notable changes to this year's report can be attributed to the addition of new or updated data. However, others are influenced by market conditions, acquisitions or circumstances unique to the company. Keeping that in mind, here are several Top Feed Companies ranking highlights:
The 2020 edition of the Top Feed Companies report features some major changes. This year we included tonnage data from more integrators and, with the help of a feed industry consultant, gained new insight into the Asian feed industry. Ultimately, we added 42 new companies to the master listing, largely from China (16) and the United States (15).
In addition, due to the discovery of new information, nine companies that appeared in last year's Top Companies report were removed from the listing.
Several companies made notable jumps compared to their 2018 rankings/volumes. Based on new data, Chinese feed producer Haid Group took the No. 6 position, moving up from No. 17; Shuangbaotai Group (Twins Group) jumped to No. 12 versus 15 in 2018 and Singapore's Japfa Ltd. rose from the No. 30 slot to No. 22. In contrast, a handful of Asian companies experienced significantly reduced volumes in 2019 compared to 2018 due to the African swine fever (ASF) virus.
ADM's acquisition of Neovia is the most notable mergers & acquisitions (M&A) activity in this year's report. While the announcement was made in 2018, the sale was finalized in 2019.
Looking forward, De Heus's recent 2020 acquisitions and its expansion in Europe and Southeast Asia will increase its tonnage in next year's listing.
Other notable M&A activities in the last five years include Nutreco's acquisition of Hi-Pro Feeds (2017); Cargill's purchase of Southern States Co-op (2017) and Alltech's 2017 takeover of Ridley Inc., Masterfeeds and Coppens (2016).
WATT Global Media's research team has standardized the way parent companies and their subsidiaries are displayed in the Top Feed Companies database. To examine the holdings of the parent companies in this year's report, visit Feed Strategy's Top Feed Companies database to search historical data, milestones and additional company information.
Looking ahead
Next year's Top Feed Companies report may look a lot different given the challenges animal protein producers have faced in 2020. No doubt, the impact of the COVID-19 global pandemic will shape 2020 feed production volumes, but the full scope of its impact remains to be seen. Many factors, from packing plant closures to predictions protein consumption may decline due to less discretionary income, may impact the amount of feed produced this year and slow — or accelerate — mergers and acquisitions. In addition, the lasting threat of the ASF virus continues to challenge swine production in China and Southeast Asia; it also poses an on-going threat to the European pig herd.
Despite these challenges, there are 17 companies worth watching in the coming years. These operations charted volumes upward of 800,000 metric tons of compound feed production in 2019 and may be contenders for ranking on the Top Feed Companies list moving forward.
Editor's note: The World's Top Feed Companies report was drawn from WATT Global Media's Top Feed Companies database, compiled from research and a survey overseen by Bruce Plantz and Tara Loszach. Feed consultant Yu Yu also contributed to the project. Please direct comments or questions to [email protected].
---
To drill down deeper into the factors that shaped this listing, historical data and the company profiles of more than 200 feed producers worldwide, visit the Feed Strategy's full Top Feed Companies database: https://www.feedstrategy.com/worlds-leading-feed-producers/.