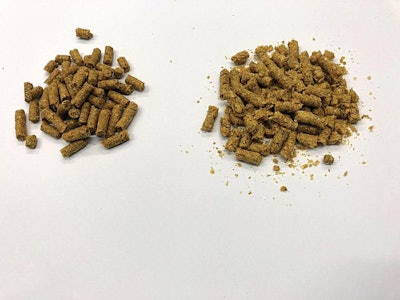 Poultry grow fastest on pelleted diets, but the benefits wane with increased nutrient density
Feeding poultry pelleted diets instead of mash improves growth and flock uniformity, according to a series of New Zealand feed trials. But the benefits wane as the nutrient density of the feed increases, raising questions about whether the cost outweighs the benefit.
Researchers from the Monogastric Research Center at New Zealand's Massey University fed broilers a variety of diets, half served as a mash and half as pellets. Regardless of the specific diet they received, the broilers on pelleted diets consistently outperformed those fed mash with respect to weight gained and feed conversion, according to the study, published in the journal Animal Feed Science and Technology. Fifi Zaefarian, one of the study's co-authors, said the pellet diets also improved flock uniformity.
"The pelleting process, by agglomerating particles of different size together, reduces ingredient segregation and selective feeding and elevates flock uniformity," Zaefarian said in an email.
However, the study also found that the benefits associated with pelleted diets declined as the density of nutrients contained in the base diet increased. In addition, pelleting reduced the digestibility of nutrients and energy across all diets, regardless of nutrient density. According to Zaefarian, an overload of major nutrients and elevated gizzard pH associated with overconsumption of pelleted feed could be possible explanations for the impaired nutrient digestibility seen in pelleted feed.
"The negative impact of pelleting on nutrient and energy utilization is compensated by high nutrient intakes facilitated by the high feed intake in pellet-fed birds," Zaefarian said, "therefore, enhancing the growth performance and justifying the use of pellets over mash in broiler production."
But the New Zealand study also calls for additional research to determine the optimum nutrient density in pelleted broiler diets. Further study is also needed to determine the potential economic return for producers.
"To decide which level of nutrient density should be used in broiler diets to achieve the highest efficacy of pelleting, economic returns must be taken into account," Zaefarian said.