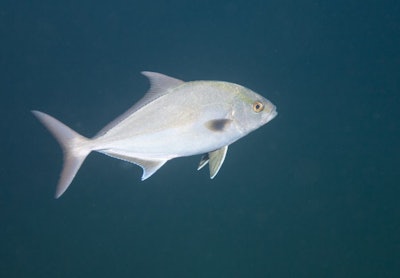 Researchers successfully raise kampachi, a carnivorous fish, on fish-free feed
After nearly a decade of attempts and false starts, researchers in Hawaii say they have successfully raised kampachi, a high-value carnivore, on entirely fish-free feed.
The successful diet relied on poultry meal to replace fishmeal, and a blend of canola, flax and algae oil from Veramaris to replace fish oil, according to Neil Anthony Sims, CEO of Hawaii-based mariculture and research firm Ocean Era. While omnivorous fish such as tilapia thrive on vegetarian diets, developing diets for high-value carnivores has proven challenging.
Sims said Ocean Era had realized the potential value of poultry meal in creating fish-free feed during a separate trial eight years ago. However, these diets still relied on fish oil, which proved more difficult to replace, and at the time feed-grade poultry meal was not widely available.
"So it was far more expensive than fishmeal and didn't make commercial sense," Sims said.
In the years since that trial, Sims said, feed-grade poultry meal has become more widely available thanks to its growing inclusion in cat and dog food, bringing the price to more reasonable levels. At the same time, companies like Veramaris have developed algae oils high in omega-3 fatty acids that can be used to replace fish oil.
It was the latter development, Sims said, that prompted Ocean Era and its funding partners at the National Oceanic and Atmospheric Administration (NOAA) to return to the poultry meal trials anew.
Algae oil continues to command premium pricing, Sims said, so the researchers chose to blend it with more affordable vegetable oils to ensure the feed remained cost competitive. Ultimately, fish fed the chicken and algae diet performed as well as fish fed a conventional diet, although Sims said growth declined slightly in the third and final month of the trial.
Sims said the reduced growth appeared to be a result of rancidity in the algae-vegetable oil blend. The diet's performance could likely be restored, he said, if a means of stabilizing the oils were introduced to the diet.
An informal taste test held after the trials also suggests that the chicken-algae diet produced a superior fish product.
"Part of the burden we bear here bravely, is when we finish a feed trial we sit down to platters of sashimi and do a semi-formal taste comparison," Sims said. The fish fed the experimental diet were preferred by the majority of the Ocean Era testers.
Because the trials received public funding from NOAA, Sims said Ocean Era will release the full results of the study — including the feed formulation — in the public domain. The technical details of the trial are available in an article in the Global Aquaculture Alliance Advocate, and the formula will be released through the F3 Feed Innovation Network.