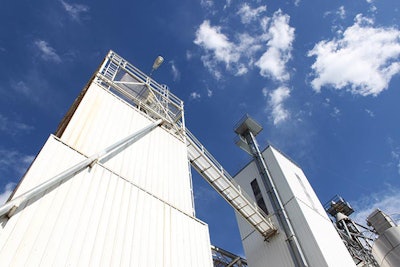 The Board of Regents at Iowa State University has approved a $21.2 million, six-building feed mill and grain science complex at the school.
According to the university, the complex will include a feed mill tower, grain handling and storage complex, warehouse, education building, scale and sampling building, and biosecurity/vehicle wash building. Construction will begin this fall and continues into spring 2021. The facility likely would produce about 10,000 tons of feed in a year, according to a report.
The same report said the Curtiss Farm-Feed Mill and Grain Science Complex will be entirely funded with private contributions. The university has received $16.5 million in direct donations, equipment and technology.
Donors include California Pellet Mill, Kent Corp., the Iowa Corn Promotion Board and Sukup Manufacturing Co.
Facility will provide hands-on experience
At the proposed facility, classes and short courses will be taught, research conducted and feeds prepared to meet the dietary requirements of animals housed at several university teaching and research farms in the Ames area.
Iowa State faculty have been developing a new minor in feed and grain technology to better prepare students to meet a growing demand for highly skilled professionals in the feed and grain industries. The new complex will provide hands-on learning experiences for students across several agricultural majors.
The facility will be a new venue for continuing education and extension programs for employees in feed milling and grain industries. These programs will help workers more effectively meet an increasing number of regulatory compliance issues, address biosecurity concerns and gain experience in advanced processing methods. They also will be valuable for demonstrating to international visitors the sophistication of the U.S. feed industry, and in educating visitors on how to best use U.S. corn and corn products in their own livestock industries.
The new facility will centralize feed production close to university animal teaching and research farms. It is expected to improve the quality of research by Iowa State faculty, serving as a source for custom-made animal feeds for academic studies. Variability and inconsistency in making experimental diets have been a stumbling block in the past — one that will likely be eliminated or reduced through use of the new facility. Researchers also will use the complex to study feed safety and biosecurity issues linked to transportation of feeds.