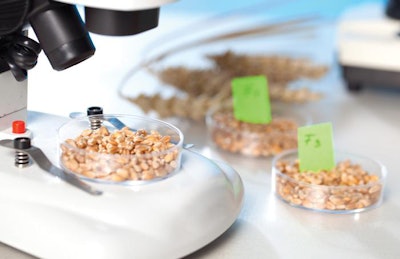 U.S. President Donald Trump has signed an executive order that will streamline the review process for genetically modified livestock and seeds.
The order is meant to "speed up reviews of biotechnology so that farmers can get access to critical scientific advances faster and reap the full benefits of American innovation for many years into the future." It will make it easier for companies to develop and market genetically modified products.
"The current regulatory process is a regulatory maze that can take over a decade to navigate, delaying innovations that can bring safe resilient crops to the market," the White House said in a statement. "This executive order will help eliminate delays, reduce developer costs and provide greater certainty about the review process."
The U.S. Department of Agriculture (USDA), Food and Drug Administration (FDA) and Environmental Protection Agency (EPA) are directed by the order to work together to create common-sense regulations and develop awareness and education programs to foster acceptance of new technologies.
Agriculture groups welcome news
The National Corn Growers Association said in a statement that "the order promotes a science- and risk-based program that will lay out a clear, predictable and efficient regulatory framework. This will offer cost savings to technology developers, open the pipeline for product approval to a larger sphere and allow farmers more rapid access to the tools that they need in the field.
"This order also furthers policies important to farmers by expanding markets by urging USDA, along with USTR and the Department of State, to work with our trade partners abroad to synchronize approval processes internationally and help remove barriers to trade created by non-transparent and non-science-based regulatory approval processes.
"Additionally, it will aid in furthering public acceptance through the creation and support of programs that promote the public approval of agricultural products created through biotechnology both at home and abroad.
The American Soybean Association (ASA) said in a statement: "By promoting agricultural innovation and confidence in new technologies, farmers, small agribusinesses, researchers and others have the opportunity to pursue advanced ways to grow our food, fight plant pests and disease, reduce reliance on fertilizers and other resources, and respond to consumer demands to reduce the impact of agriculture on the environment, in keeping with farming's ongoing good stewardship efforts.
"Agriculture is one of the crown jewels of the U.S. economy," said David Herring, National Pork Producers Council president and a pork producer from Lillington, North Carolina. "Today's executive order paves the way for common-sense regulation to keep America first in agriculture so that we remain the global leader in an economic sector that has offset the U.S. trade imbalance for decades and that is so critical for the prosperity of our rural communities."