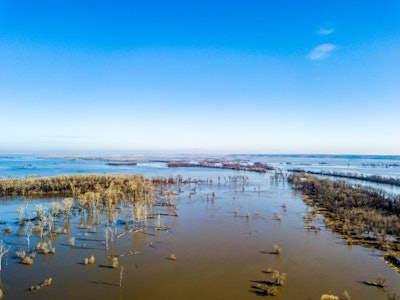 As parts of the Midwest cope with flooding from melting snow and heavy rains, Illinois-based commodity trader Archer Daniels Midland Co. (ADM) said its first quarter results are likely to be negatively affected by weather woes.
"Extreme winter weather has affected our first quarter North American operations beyond what we would experience in a typical winter," the company said in a statement.
"In March, powerful snow and rain storms early in the month and resulting flooding and its after-effects are affecting both Carbohydrates Solutions and Origination operations. Rail transportation has been disrupted throughout the region; our corn processing complex in Columbus, Nebraska, was idled due to flooding and currently is running at reduced rates; and unfavorable river conditions since December are severely limiting barge transportation movements and port activities.
"Earlier in the quarter, severe cold temperatures and snowstorms affected some of our Carbohydrate Solutions processing facilities in the Midwest. The extreme weather reduced corn processing volumes principally due to a slowdown in rail and truck transportation, which affected both inbound and outbound shipments."
The company, which reported fourth quarter net earnings of $315 million in February, said it expects a negative profit impact of $50 million to $60 million as a result of recent weather events.
"We continue to assess the situation, and utilize our transportation and operating network as much as possible to meet customer needs. Taken together, we expect these severe weather disruptions to have a negative pre-tax operating profit impact to ADM of $50 million to $60 million for the first quarter. That impact will be roughly equal between Carbohydrate Solutions and Origination, with some minor impacts to our other segments. We will have a further update on our first quarter 2019 earnings call, with an assessment of full year impacts, including recoveries and offsets," the statement continued.
Last week, ADM said it would donate $100,000 to the American Red Cross to help provide disaster relief to communities affected by flooding in Nebraska, Iowa, Kansas and other Midwestern states. The company will also match employee gifts of $100 and more to the Red Cross and provide emergency grants to employees personally impacted by the floods.