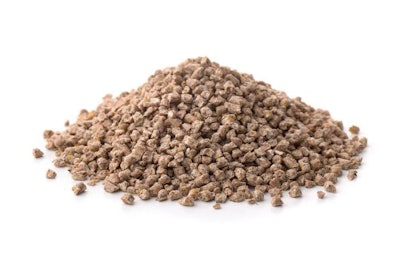 Output of animal feed in the European Union is forecast to rise in the medium term to 2030, with the strongest growth likely for medium-protein feeds.
Increased production by the region's poultry, dairy and intensive beef sectors are seen as the drivers for the rising output of livestock feed, according to a recent report from the European Commission, The EU Agricultural Outlook 2017-2030.
Compound feed use is forecast to grow by around 4 percent from the current level to 275 million metric tons (mmt) by the end of the study period. Meanwhile, feed prices are foreseen to be only slightly higher than they are now, and well below the peak reached in the recent past.
Medium-protein feeds will see fastest growth
Authors of the report highlight that the fastest rate of increase in output will likely occur for medium-protein feeds, which include corn gluten, distillers dried grains, field peas, broad beans, and whey powder. In 2014, 27 EU member states opted to introduce policies to support growers of field legumes, such as peas and beans, under Voluntary Coupled Support (VCS), which allows the states to grant additional payments to growers on top of the commodity price. This top-up aims to influence arable production decisions, and encourage the sowing of particular crops.
Throughout the study period, low-protein feed ingredients, such as coarse grains, wheat, rice, cereal brans, molasses, roots and tubers, will continue to comprise the greater part of total EU feed production by weight.
The top market for EU animal feed is the pig sector, amounting to 90 mmt annually, and comprising mainly barley, corn and wheat. This is followed by beef cattle and broilers at around 50 mmt each, dairy cattle at 40 mmt, and laying hens at almost 20 mmt. Soybean meal is a more important constituent of broiler feeds than those for the other main production species.
For several years after 2011, the inclusion rate for barley in EU feeds gradually increased, largely because of its favorable price in relation to wheat and corn. However, in recent years, corn's share has been rising, and this is expected to continue to 2030 as the result of ample supplies and moderate price increases. In contrast, strong demand for wheat has led to its use in other industries rather than for animal feed.
Feed use in the ruminant sector is forecast to increase most rapidly, reaching 41 percent of the total output by 2030, according to the report's authors. While the dairy sector is expected to increase its feed use, intensification will be the main driver for the beef sector.
For all the species groups, improvements look set to continue in feed conversion ratios in respect of animals fed mainly on grain. Future improvements in this metric are forecast to be faster in the 15 longer-term member states of the EU than in those that have joined more recently. Main drivers for this difference are more rapid genetic improvements, productivity gains resulting from restructuring in the sector, and feed rationing triggered by environmental concerns.
The European Commission report also forecasts strengthening global demand for animal products to 2030, driven by growth of the world population and incomes. These developments are expected to benefit Europe's livestock and poultry producers.