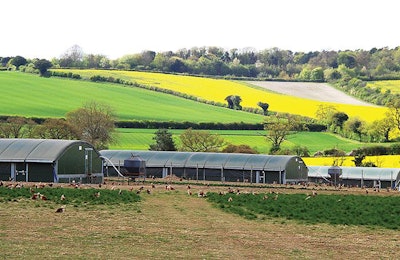 The high value of organic raw materials has always attracted the attention of fraudsters. European agencies have a zero-tolerance policy toward any non-compliance of EU organic standards, and have implemented a rigorous regime of certification, testing and auditing. This back-to-basics article explores some of the historical errors, lesson learned and structures in place to ensure authenticity and to protect the organic brand.
Read the entire report about fraudulent organic grain imports exclusively in the January issue of Feed Strategy.
Twenty years ago, the global supply of organic raw materials for EU feed manufacture was in balance with demand. Organic feed manufacture was limited to a few feed mills in each country that were able to cater for this niche market. Organic arable and livestock farmers were also generally of a small scale catering for a niche retail market. This is enshrined in the EU law where, for example, an organic poultry house may only contain 3,000 birds. At this time, the organic raw material certificate was a trusted document.
Fifteen years ago, consumer demand for organic feed grew in Europe, which put pressure on the supply chain. Feed millers had to contract raw material supplies for the harvest year ahead otherwise they could not guarantee continuous supplies of feed to their customers as raw material supplies were erratic. Demand for organic product, such as eggs, had increased, so organic poultry farmers expanded by having multiple houses of 3,000 birds.
New companies were founded to locate and import organic raw materials from anywhere in the world; many of these companies found new suppliers who grew organic materials by default and persuaded them to become certified. The increased search for organic raw materials that were priced at twice conventional values or conventional price plus $120 per ton unfortunately attracted the attention of fraudsters.
For example, one Italian criminal gang was so bold as to set up fake certification bodies in Malta and Moldova called ICS Biozoo, where documents were processed in a "fake" country called Transnistria. Transnistra is sandwiched between Moldova and the Ukraine and, although it is not recognized by any member of the United Nations, it has its own president, parliament, anthem, passport, flag and currency. A country that is off the map has advantages when it comes to laundering conventional raw materials into organic.
You'll also learn about: