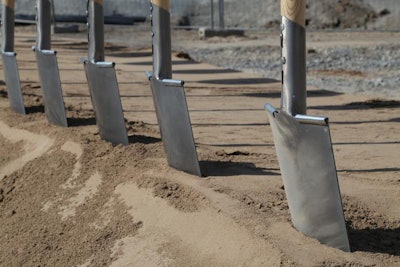 Cargill is expanding its presence in Ohio with a $50 million investment in a new premix and nutrition plant in Lewisburg. Cargill broke ground November 8 on the 220,000-square-foot facility, which will sit on the same site as its current operation on State Route 503. The expansion will be completed spring 2019, and will result in a dozen new jobs in the Lewisburg area.
"This state-of-the-art facility will better help us meet evolving customer needs and preferences for antibiotic-free meat, milk and egg products," said Dean Barker, business operations director for Cargill's premix and nutrition business in the U.S. "Given these consumer preferences, it is important for us to invest in new and enhanced manufacturing capabilities."
The new plant will be dedicated to manufacturing, non-medicated and antibiotic-free animal nutrition products for current and prospective U.S. customers. The facility will have four production lines and produce roughly 86,000 tons of animal nutrition products per year.
"Cargill's expansion in Lewisburg is exciting news for our community," said Representative Jeffrey Rezabek, Ohio House District 43. "They employ many members of our community and this investment only furthers their commitment to Lewisburg and Preble County as a whole. I look forward to working with them in the future to continue to create a business-friendly environment."
The plant will support Cargill's Provimi brand of animal nutrition premixes and products, along with additives and specialty and custom blends. Cargill's existing facility on the site will be dedicated to producing medicated products that are important to maintaining the health and well-being of livestock and poultry.
"It's important for us to have separate facilities to ensure product quality for our customers," Barker said. "We understand our customers have different preferences and product requirements, and this new facility will help us deliver those choices."
The facility will have the latest manufacturing technology to increase employee safety and lower product quality risks. The Lewisburg facility joins six other Cargill premix feed and nutrition manufacturing facilities across the U.S in Guymon, Oklahoma; Hereford, Texas; Weatherford, Texas; Fremont, Nebraska; and Lewisburg, Ohio.
"Cargill's commitment to Lewisburg is a credit to the workers who are getting the job done," said State Sen. Bill Beagle, Ohio Senate District 5. "Having been to the existing Lewisburg plant, I know the quality of its people and the value they provide. This expansion will cement the relationship between the village of Lewisburg, Preble County and the company, and have a multiplier effect on our region's economy."