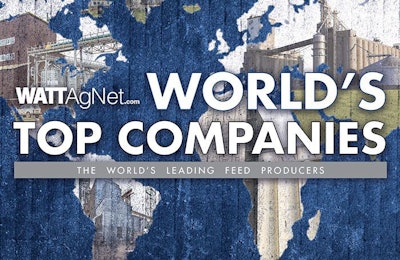 In 2016, 100 animal feed manufacturers worldwide met or exceeded 1 million metric tons of compound feed production. The data used to compile this year's Top Feed Companies ranking was derived from WATTAgNet.com's exclusive Top Companies database, which features market intelligence gathered by WATT Global Media's research team. This annual report tracks the previous calendar year's compound feed volumes for many of the major players in world animal protein production.
The 2017 edition of this report saw several ranking shifts driven by consolidation and market conditions. While we're reporting only two fewer companies than last year, this year's report features eight new entries and an expanded group of "companies to watch," i.e. those who are manufacturing volumes in the 900,000+ metric tons range.
Leaders in feed production
The leading 100 feed producers of 2016 manufactured 373 million metric tons of feed. As a percentage of the world compound production volume of 893.2 million metric tons (Feed International's World Feed Panorama, June 2017), the Top 100 feed companies are responsible for producing 41.7 percent of total 2016 production.
Asian and European companies make up the bulk of 2016's Top Feed Companies listing. Appearing on the list this year, there are 46 Asian companies; 26 European; 12 North American; seven South American; five from Africa; three from the Middle East; and one in Australia.
A shift in convention
WATT's research team moved to standardize the way in which parent companies and their subsidiaries are displayed in the Top Companies database. For example, animal health and nutrition supplier Alltech, which ventured into compound feed production through the acquisition of two of last year's Top Companies, Ridley Inc. and Masterfeeds, as well as Dutch aquafeed producer Coppens, is making its official debut on the Top Feed Companies listing at No. 14.
WH Group, owner of Smithfield Foods, has also been added to the list, and EWOS's production has been absorbed by Cargill.
Notable ranking changes
While we acknowledge that some of the changes in ranking can be attributed to having access to better data, other changes relate to market conditions, acquisitions or circumstances unique to the company. Keeping that in mind, here are several highlights:
The most notable jump this year goes to the Saudi Arabia's Arab Company for Livestock Development (ACOLID), claiming the No. 11 position from No. 26 last year. Also notable: China's Tongwei Group moved from No. 28 to No. 18; and Easy Bio, which climbed from No. 82 to No. 64.
In Brazil, JBS S.A. dropped from No. 26 to No. 39, losing nearly one quarter of its reported 2015 volume. The company, fraught with several scandals, will likely not see a rebound in 2017.
New to the Top Feed Companies listing in 2016: Arasco, No. 62; Prestage Farms, No. 76; Country Bird Holdings Ltd., No. 85; Evergreen Group, No. 90; Wadi Group, No. 95; and AFGRI Animal Feeds, No. 97.
In addition, seven companies nearly hit the 1 million metric ton mark, charting volumes upward of 900,000 metric tons of compound feed production.
Looking ahead
Mergers, acquisitions and animal disease shaped 2016's Top Feed Companies report; however, the impact of the trends that influence 2017's volumes remain to be seen.
To drill down deeper into the factors that shaped this listing, historical data and the company profiles of more than 200 feed producers worldwide, visit the WATTAgNet's full Top Feed Companies database: www.WATTAgNet.com/directories/81.
Editor's note: The World's Top Feed Companies report was drawn from WATT Global Media's Top Feed Companies database. The data was compiled by Hilary Niles. Please direct comments and questions to [email protected], or [email protected].