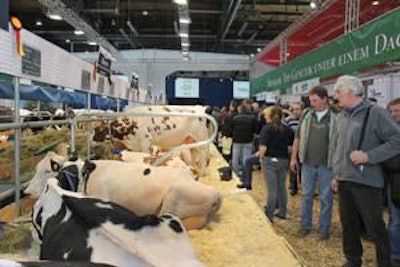 EuroTier 2014 will cater to animal husbandry professionals around the world looking to experience this unique program of innovations, trends and industry information. Pig and cattle manufacturers and suppliers and poultry farmers will all be represented in Hanover, Germany, November 11-14.
EuroTier's Innovations Platform will showcase 270 innovations – including nearly half from abroad – for the world markets for machinery, installations and farm inputs. The greatest numbers of submissions are in the sectors of "Machinery and equipment for keeping and feeding – pig," "Machinery and equipment for keeping and feeding – cattle," "Farm inputs and machinery and equipment for their use," "Climate control and environmental systems and equipment," and "Equipment, accessories and spare parts." Once again, an international panel of experts, appointed by Deutsche Landwirtschafts-Gesellschaft (DLG), will select the gold and silver medal winners.
This year, the exhibition program for poultry farmers is focusing on feed and animal health, and these offerings can be found concentrated mainly in Hall 11. Poultry specialists will also find a broad program of interest in the fair's cross-species sector.
Focus on cattle
This year's program in the cattle sector has been expanded, with a special focus on automated cattle feeding and cattle genetics and breeding.
The use of automatic feeding systems is advancing dairy cattle, young stock and beef bull husbandry, but what level of automation is expedient? The EuroTier special, "Automated cattle feeding – from silo to rumen" will offer answers to this question.
Exhibitors in the open-air section of the fairgrounds are setting up this special presentation that will show various technical solutions and live demonstrations in a practical environment. The focus will be on different approaches, from feed delivery and mixing operations to feed dispensing. Alongside the technical demonstrations, there will be information islands focusing on the topics of "animal welfare," "environment," "costs" and "feeding management," staffed by experts from the consultancy, science and research, and industry sectors. Additionally, the Cattle Forum will focus on automated cattle feeding with lectures and discussions with simultaneous German/English interpreting.
Because future-oriented dairy farming requires robust cows with a long life, cattle genetics is becoming increasingly important. Leading German and international breeding organizations and companies will show their daughter animals at the "TopTierTreff" animal show, offering a unique overview of top genetics from around the world. Presentations will be given in German, as well as at set times in English and Russian.
Innovative piglet rearing
Animal farming and its systems are increasingly being subjected to the critical eye of the general public and policymakers, which presents animal farmers with new challenges in aspects such as construction of housing units, feeding and management. As a result, the EuroTier Special "Innovative piglet rearing" is being organized jointly by BFL (Bauförderung Landwirtschaft), an organization devoted to promoting agricultural building construction and optimizing livestock management conditions, and DLG. Various model options will be shown, with a particular focus on solutions that allow "extra" animal welfare in piglet rearing.
Consultants on keeping management, animal health and animal housing construction will provide guided tours through this special several times a day for visitors to ask questions, and themes will be explored in greater detail at the Pig Forum.
Aquaculture sector well represented
Leading technology providers and outfitters as well as many other suppliers and institutions in the areas of aquaculture, mariculture, inland fisheries and environmental engineering will be represented at this year's fair. Making use of biomass from the water and material cycles will be a key focus. The latest developments, especially regarding production and use of algae and other water plants, will be presented in a dedicated area, "Growth in Water."