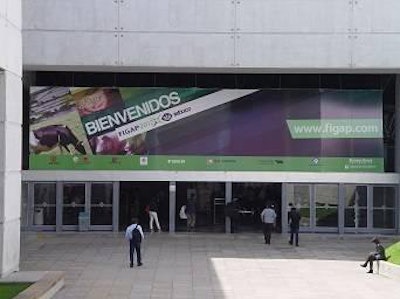 Figap Mexico 2014 will be held October 22-24 at the Expo Guadalajara in Jalisco, Mexico. Registered attendees include those from Italy, Denmark, Switzerland, Germany, Netherlands, Spain, Belgium, China, Taiwan, Turkey, Brazil, United States, Canada and Mexico.
"We have a huge range, because this time there are attendees from as far away as Cameroon and Nigeria," said Patricia Jazo, director of Figap. In addition, the success so far and the large number of exhibitors "gives certainty to companies," that it will be a good event, Jazo said.
This year, organizers have made some changes by sending monthly newsletters with news and developments in the sector and have extended the invitation to Central and South America and the poultry, pig and cattle sectors.
Registration is available online to provide a "free pass" and make the entrance to the Expo Guadalajara more efficient.
Feed Production Workshop
A Feed Production Workshop will be held October 20-21. Lectures will be on various manufacturing processes — "issues impacting the sector, issues of concern to the user." Lectures will be given by specialists from equipment manufacturers such as Stolz, Scott Equipment, Van Aarsen, Wenger, Buhler or CPM, which will make it an extremely practical and technical course. The experts will be able to share their experiences of how to use the equipment, how to solve problems, and how the pieces of equipment work best in a feed mill.
It will be structured so there is complete interaction in order to answer questions about manufacturing for poultry and swine feeds, pet food and aquafeed.
Integration with feed manufacturers
The event will provide a framework for bringing together the entire feed manufacturing sector in the country, as the National Feed Manufacturers Council (CONAFAB), National Feed Manufacturers Association (Anfaca) and the Mexican Association of Feed Producers (Amepa) will meet on the same days.