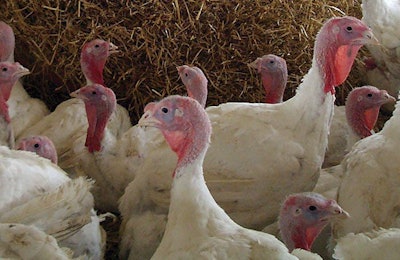 Cooperative says demand for turkey feed has increased in South Dakota
Agtegra Cooperative will add turkey feed production to its feed mill in Herreid, South Dakota, it said in a press release.
The feed mill has produced feed for ruminants since February 2020, but said demand for turkey feed has increased.
"The Agtegra Herreid team has implemented a few changes to accommodate mixing another species' feed in the mill," Agtegra said in the release. "In addition to more load-out spouts for the dedicated turkey feed bins, a hand-add scale and other small measuring instruments were also implemented to track feed ingredients. A larger addition included a system used in applying Sal-Curb, a formaldehyde product used to reduce bacteria when mixing turkey feed ingredients. Other small upgrades to the mill were made to comply with turkey feed milling regulations."
The mill is expected to produce 5,000 tons of turkey feed per year, doubling the mill's total output.
"Livestock development creates more local demand for corn and soybean meal. It also creates jobs and opportunities for our kids to stay here in South Dakota," said Agtegra Feed Division Manager Scott Kilber. "We continue to look for opportunities to support livestock development in our area because of the impact the agriculture industry has on every aspect of our lives. Every mouth we can feed here has a ripple effect on overall growth for our cooperative, community, county and state."
According to the South Dakota Poultry Industries Association, 5 million turkeys per year are raised in the state. Turkey genetics company Hybrid Turkeys has production facilities in the Ipswich area.
Agtegra has more than 6,300 member-owners in eastern North and South Dakota. It was founded in February 2018 out of the merger of the South Dakota Wheat Growers and North Central Farmers Elevator.