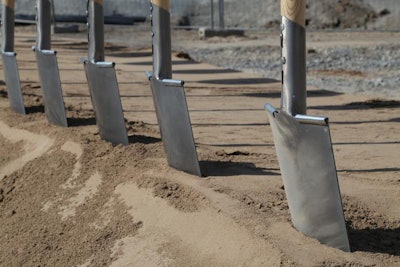 New 11,700-square-foot-building will house Kemin's Applications Solutions division
Kemin Industries has broken ground on a US$4.5 million expansion of its headquarters in Des Moines, Iowa.
The ingredient manufacturer is expanding its campus and constructing a new building for its Kemin Applications Solutions division, a global engineering team that provides application expertise and support of Kemin's liquid products for customers at their operations.
The company said in a press release that the new 11,700-square-foot building will bring state-of-the-art equipment and resources to the team. It will also provide a "central showcase area" for products developed by the team.
Kemin Application Solutions specializes in providing Kemin's worldwide customers with services and technologies related to proper application of its liquid animal nutrition and health products, which is particularly relevant in the feed industry.
What started out as a small application system has evolved to drum, tote or even bulk tank pumping and application systems. Kemin system computers control when the application starts and stops, features air-assist nozzles to direct the product and digital flowmeters make sure the right amount of product is applied to every batch. Kemin solutions and its specialized equipment continues to evolve to meet ongoing customer needs.
Kemin hosted a groundbreaking ceremony for the new building on June 1. It is expected to open in early 2022 and several new jobs will be added over time.
The Kemin global headquarters project was completed in 2017 with its final addition totaling US$30 million. The entire headquarter expansion was a five-year, US$125.5 million overall investment in the Des Moines facilities and community. Located in the development area of the southeast corridor near downtown Des Moines, the 94,000-square-foot building houses workspaces, laboratories, collaboration areas and a fitness center. More than 600 employees work at Kemin in Des Moines. In total, Kemin has more than 3,000 employees globally.
In July 2020, Kemin broke ground for a new quality control laboratory to be built on-site at its worldwide headquarters in Des Moines. The new lab will include 15,000 square feet of functional showcase labs to exhibit Kemin's advanced analytical capabilities, which ensure the activity, potency and specificity of Kemin's finished goods. The lab will be a working space for Kemin teams and available for customers. The new lab will open in 2021.