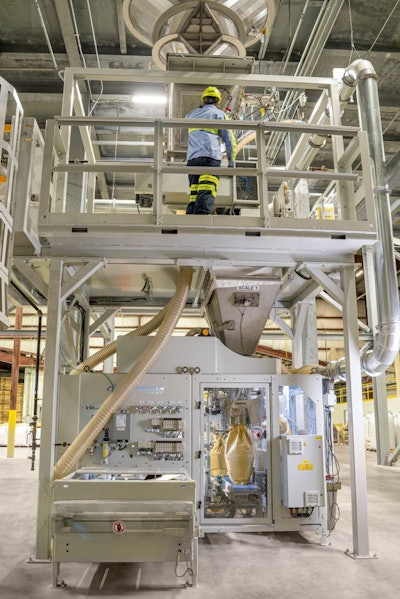 'Future-ready' facility uses new technology to ensure high quality and traceability
Cargill Animal Nutrition has opened a new premix facility in Lewisburg, Ohio, and marked the opening with a virtual event on January 11.
The 220,000-square-foot facility will produce 154,000 tons of non-medicated animal feed and pet food products and premix annually. The plant includes a 160-foot steel premix tower, along with a new benchmark of automation and controls that provide precise measurements and traceability that exceed industry standards and significantly reduce cross contamination risks. Soft, flexible hoppers for micro-ingredient dosing provide gram-level precision in production, and stainless-steel design makes cleaning the systems easier and more effective. Cargill said each of the plant's four segregated production lines can run a mix from start to finish in approximately one hour.
This facility "raises the bar on premix production technologies. The facility was carefully designed based on our animal nutrition experience around the world and with a strategic outlook for the future of premix production," said Mark Lueking, the plant's manager. "This new facility is a clear demonstration of our commitment to customers, as we partnered with them to ensure their success for both today and well into the future."
3 goals for new plant
Adriano Marcon, president of Cargill's animal nutrition business, said the plant was designed with three goals in mind: food safety, bioefficacy and the new consumer requirements.
"With the amount of feed that we fortify in America today, every week, Americans eat animal protein products impacted by our premix technologies. Be that an egg or poultry meat or pork, beef or milk, we impact millions of dinner plates in America every day and we know our responsibility," Marcon said.
Precision is paramount in ensuring the bioefficacy of feed.
"We know well that accuracy in vitamins and trace minerals is critical to animal performance and health," he said.
Cargill ensures accuracy at the new facility through an automated weighing and dosing system and dual weighing capabilities.
"Bioefficacy is really about having the right micronutrients at the exact part-per-million amount in the feed," he said. "Bioefficacy is key to enable animal productivity. Our bioefficacy program in Cargill Animal Nutrition starts with quality control of our suppliers and our ingredients."
Cargill worked with partners to identify consumer requirements and figure out what the plant needed to meet those needs.
"We wanted to be able to address the modern consumer's requirements," Marcon said, adding that the entire plant is antibiotic free and residue free, and has animal protein-free lines.