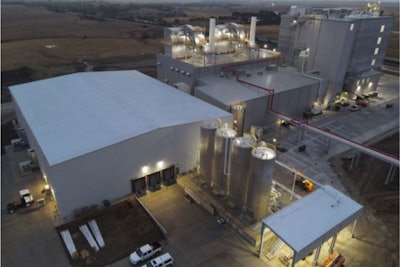 Amber Wave
Amber Wave has launched production at its Phillipsburg, Kansas, plant following an investment by Summit Agricultural Group.
Amber Wave is now producing AmberPro vital wheat gluten, a domestic source of gluten for commercial bakeries, food ingredient plants, alternative meat manufacturers, pet food processors and specialty feed companies.
"With over 80% of the vital wheat gluten used in the U.S. being imported, we not only add value to the growing region but also serve as a supply chain solution provider for our customer base," said Randy Cimorelli, CEO.
The state-of-the-art facility, located in Phillipsburg, Kansas, uses the latest technology available from partners in milling, wheat protein extraction and renewable biofuels, said the company.
The facility features a fully automated, 27,500-cwt Sangati Berga mill, automation technology and air handling systems implemented by Kice Industries, gluten extraction and drying equipment by Flottweg and VetterTec, and packaging equipment by Premier Tech.
"Installing best-in-class processing equipment from our partner providers was at the forefront of our project," said Steve Adams, COO. "Utilizing world class automation, superior equipment, and an exceptionally trained workforce, we will produce a high-quality domestic wheat protein ingredient. Safety, quality and sustainability were key areas of focus as we progressed through the project phase."
Amber Wave, headquartered in Ames, Iowa, announced the opening of the Phillipsburg plant in August 2022. At the time, the company noted all the wheat the company needs is grown within 100 miles of the plant.
In July 2022, Summit Ag Investors announced the rebrand of its portfolio company Summit Sustainable Ingredients, LLC to Amber Wave.
Amber Wave is a portfolio company of Summit Ag Investors, the investment management arm of Summit Agricultural Group. Summit Agricultural Group is a diversified agribusiness operator and investment manager with operations in the U.S. and Brazil.