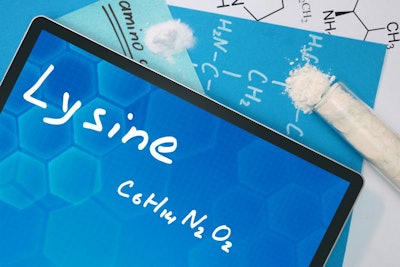 Kansas State University professor says conserve what you have and, when possible, use liquid lysine
Pig producers who haven't already made feed formulation adjustments because of the dry lysine shortage would be wise to do so before they no longer have a choice, advised Dr. Jason Woodworth, research professor at Kansas State University (KSU).
"If you're not experiencing a lysine shortage, great. I don't know what you're doing, but you're one of the lucky ones," Woodworth said while speaking at KSU Swine Day on November 18. The shortage "is something that you need to really be aware of."
Lysine, which is an essential amino acid in nutrition, is used to address nutrient requirements of the animal and improve production performance for animals in agricultural production. In addition to being used in pig diets, it is also used in feed for poultry and for dairy cattle.
Woodworth said the shortage dry lysine, also known as L-lysine, is partially due to "shipping constraints," but also because of production issues. For example, ADM recently announced it was ending production of dry lysine in early 2021.
In some cases, liquid lysine can be substituted when formulating diets, but Woodworth pointed out that not everyone may have an inventory of liquid lysine, because not all feed mills have the capability to use liquid and solid lysine.
He also advised conserving dry lysine for nursery and lactation diets, whereas it can be reduced in gestation and finishing diets.
"The big thing is to be proactive in your inventory management, and know what you have on the floor," he said.
Some analysts have predicted that the dry lysine shortage will remain until the second quarter of 2022, Woodworth said, but he hinted that the shortage could ease earlier than that.
Impact on soybean meal demand
Other supply situations are also expected to arise from the lack of dry lysine, as it will increase demand for other protein ingredients such as soybean meal.
"There has been a very rapid change in the market right now, unfortunately, that's faster than maybe what we can keep up with in the demand in soybean meal production," Woodworth said. "We do know there will be some areas where there will be lower availabilities of soybean meal. In those situations, there's not too many other options available."