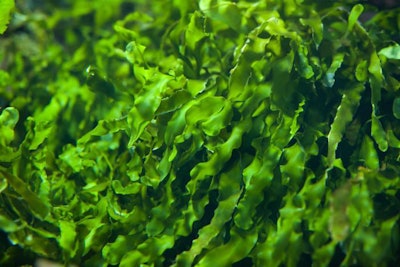 4-year project will consider efficacy, commercial viability of organic seaweed in cattle feed
A research team led by the University of Vermont will spend the next four years considering the overall potential for organic seaweed ingredients in cattle feed after receiving a US$2.9 million grant from the U.S. Department of Agriculture (USDA).
Part of the study, which kicked off this fall, aims to understand the nutritional benefits and drawbacks of feeding seaweed to organic-fed dairy herds in the U.S. – including whether seaweed reduces emissions of CO2, methane and nitrogen. But the study will also consider which of the seaweed studies available in the U.S. could become commercially viable if grown for use in dairy feed at scale, according to Sabrina Greenwood, the lead researcher on the project.
"The idea is to look at organic seaweed and whether you can incorporate that into the diet of an organic dairy herd to create a commercially feasible ingredient," said Greenwood, an associate professor in the department of animal and veterinary sciences at the University of Vermont.
Work to be completed in over the course of the study includes everything from examining how seaweeds are digested in a cow's rumen in the laboratory, to conducting focus groups with farmers to learn more about potential barriers to the adoption of seaweed ingredients, such as whether they store well or the limits of availability. Partners on the project include Syracuse University, the University of New Hampshire, and Bigelow Laboratory for Ocean Sciences.
Greenwood said the motivation for the study started with the aquaculture side of the equation, with researchers at Bigelow who were looking at ways to expand aquaculture production in the U.S. They connected with Greenwood, whose has a background in dairy nutrition and was familiar with the potential for animal feed to be included in cattle feed as part of an emissions control strategy.
"Feeding seaweed is gaining popularity globally," Greenwood said. "Given the importance of sustainability for the dairy industry and being conscious of nitrogen cycling, I think a lot of scientists have taken this concept to heart."
Emissions-reducing additives are of particular interest to organic producers, Greenwood said, because the cows' waste is scattered across the land they graze.
However, while seaweed has shown promise as a means of reducing dairy cattle emissions, questions remain about its nutritional properties and how it interacts with conventional feed ingredients like corn or soybeans, Greenwood said. It's also still largely produced and fed in small batches, she said, so it remains to be seen whether the product is cost-effective at scale, she said.