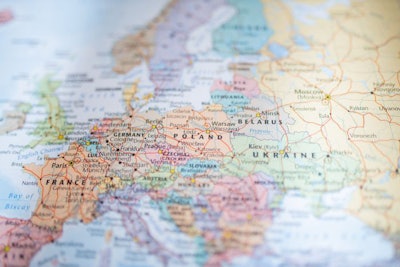 One year in, EU's Farm to Fork Strategy presents opportunities, challenges for animal feed
Animal feed doesn't often find itself in the political limelight. But in recent months, the European Union's Farm to Fork Strategy has made animal feed a topic of center-stage conversation.
Released in May 2020 as part of the European Green Deal, the Farm to Fork Strategy provided a high-level roadmap for creating a carbon-neutral food system and, in the wake of COVID-19, shoring up reliable food supply chains. The strategy set ambitious targets such as slashing the use of pesticides, fertilizers and antibiotics, and increasing the production of organic food.
Over the past year, the European Commission has opened dockets to explore many of these issues in greater detail, releasing an action plan on promoting organic production in March, and opening a public comment period on an adjacent initiative to establish criteria for restricting the use of certain antibiotics to humans.
In addition to references to animal feed and nutrition in both of these initiatives, the commission has also opened a public consultation seeking input on the regulatory oversight of feed additives, which European officials hope hold the key to reducing reliance on antibiotics and improving animal welfare.
"We are well aware of the potential benefits that innovations can bring in this field," European Health and Food Safety Commissioner Stella Kyriakides said in a prerecorded statement aired May 19 during a Euractiv debate regarding feed and animal welfare. "With expertise from the whole feed sector, we can secure a successful transition to a sustainable food system, which will contribute to overall health."
But while the Farm to Fork discussion has raised the profile of animal feed — and opened opportunities for the industry to press for reforms — stakeholders say EU policymakers have, in some cases, put the cart before the horse. The specifics of how certain ambitions will be achieved remain unclear, and the commission has yet to complete an analysis of how the myriad goals contained within the strategy will work together.
"Although we want it to move forward, the thing that kind of concerns us with this Farm to Fork Strategy is avoiding contradicting aspirations," said Roxane Feller, secretary general of AnimalhealthEurope. "We sometimes miss the coherence and a real impact assessment of what this all means."
'A golden opportunity' for the feed industry
Between the Farm to Fork Strategy, and current events such as COVID-19 increasing consumer awareness of food supply chains, the feed industry has "a golden opportunity to show how animal nutrition has an impact on animal health, and therefore human and environmental health," according to Daniela Battaglia, livestock production officer for the United Nation's Food and Agriculture Organization.
In her statement to Euractiv, Kyriakides called on the feed industry to take concrete action in three areas: using resources more efficiently and decreasing dependence on ingredients such as soy; taking collective responsibility for food safety; and reducing the use of antibiotics. But antibiotics, and the role feed additives could play in reducing their use, came to be the central focus of the May 19 debate.
The Farm to Fork Strategy's goal of reducing antibiotic use by 50% "is ambitious," Kyriakides continued, and would require the industry's "full commitment and contribution." But she also expressed optimism for the ability of the animal feed industry to find innovative solutions that will reduce the need for antibiotics in animal production.
"In the past, supplementation with vitamins and minerals was the leading concept for improving animal health," she said. "But modern feeding regimes focused on gut health and animal microbiomes have shown excellent results in strengthening [animals'] ability to cope with stress and pathogens."
Those potential benefits, Kyriakides said, have led the European Commission to open a full review of the EU's feed additive regulations, hoping to find a means of improving — and speeding up — the approval process so that new feed ingredients can enter the market more quickly.
That review, according to FEFANA, the European association of specialty feed ingredients and their mixtures, represents a window of opportunity for the feed sector to request action on items they've hoped to see addressed for years, including the need for clarity around the definition and functions of feed additives, more specific labeling requirements, and a more flexible framework for research and innovation.
"There are still a number of aspects that need to be given greater emphasis and tackled in order to truly unleash the potential of the sector," Chiara Bellone de Grecis, communication manager for FEFANA, wrote in an email. "This would allow not only to deliver on the ambitious goals of the European Green Deal, but also to provide much needed solutions to the livestock chain and society's needs."
Science vs. politics
As a pig producer himself, Antonio Tavares, chair of Copa-Cogeca's Working Party on Pigmeat, expressed more indifference toward the additives review.
"I am not a scientist. To speak about regulation is not easy for me," he told Eurativ. "But for us, we want to have a feed additive regulation that is based on scientific opinions, and not on political opinions."
Previous decisions, Tavares said, seemed to be more based on politics than on actual evidence. He raised the ban on zinc oxide as an example, saying it was implemented to avoid the contamination of sites that are not connected to pig production.
"When we see a map of the EU, we see bigger contamination where there are no pigs at all," he said. "I don't see the science. That's what we don't want. We want everything based on science and not on political decisions."
Filip Van Immerseel, a professor of veterinary medicine at Ghent University in Belgium, said that, as a scientist, he felt the priority for the regulatory review should be establishing specific criteria for evaluating the efficacy of feed additives.
"What I hear about claims — I think that it is a very important issue, how to measure these claims," he said. "There's a huge number of additives on the market, and some might have the same type of probiotic but they all have different modes of action and different targets. It's very difficult when you have such a variety of products on the market."
Benoit Anquetil, managing director for Cargill Animal Nutrition Western Europe, said the feed industry would benefit from uniform rules and clear key performance indicators required of feed additives, in addition to a faster approval process.
While the feed additives review is needed, positive outcome of the Farm to Fork deliberations to date, Feller said AnimalhealthEurope remains concerned about the broader implications of the strategy.
Reducing the use of antibiotics may be a worthy goal, Feller said, but the 50% goal described in the Farm to Fork Strategy lacks the level of detail needed to determine just how large a reduction is expected.
"Why 50%? What's the reference year? Fifty percent from what?" Feller asked. "The answer is this is just a strategy — it's a wishful, aspirational target. OK, fine, but for us, we are looking for the science."
Feller said AnimalhealthEurope is particularly concerned about the lack of cohesiveness across Farm to Fork initiatives, and the absence of a comprehensive impact assessment to determine the overall effect the strategy could have on animal health, livestock producers, and ultimately consumers. For example, she said, new legislation that is about to take effect creates standards for the use of antiparisitic medications in organic animal production, which will create scenarios in which some organic eggs could be thrown away.
"Because they want to be stricter on organic — safer than safe — you end up in a situation where they're going to reduce the production of organic eggs," Feller said. "But they want to increase the production of organics in general. An impact assessment would allow for a clear picture of what's actually happening."
Hanne Larsen, chief veterinary officer of the Danish Veterinary and Food Administration, told Euractiv she believed government partnership with industry could promote the needed research and development to achieve the strategy's goals.
"I think it's just a matter of, we all walk the talk about innovation and development, and then sit together and work together in uniting our resources and renewing the legislation," she said. "Because the common goals are there, and the consumers expect it from us."