Although diseases in the human and livestock sector disrupted many industries, the EU compound feed production showed to be resilient and strong in 2020.
The European compound feed industry is a large and important sector, employing more than 100,000 people on approximately 3,500 production sites and an annual turnover of an estimated EUR50 billion or approximately US$60.8 billion.
With 2020 being such a disruptive year due to COVID-19, and hence changing global trade, logistics, consumer behavior and demand regarding animal products, a considerable negative impact was also expected regarding the EU feed production. However, contrary to early predictions from the European Compound Feed Manufacturer's Federation (FEFAC) from November 2020 — that mentioned a 2.2% drop in volume — the European compound feed industry managed to keep its production at a stable pace.
In 2020, the EU 27+U.K. produced an estimated 164.9 million tons of compound feed, an incremental increase of 0.1% compared with 2019, although not reaching its 2018 peak level.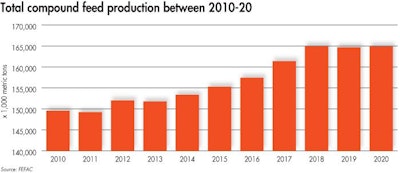 Between 2010 and 2020, the EU increased its compound feed production by more than 10%. (FEFAC)
Pig feed on the rise
Even though the total feed output was stable, differences are seen between animal species. Poultry feed was down by 0.8%, a result of the combined effect of the spread of avian influenza (AI) and COVID-19 lockdown measures. Cattle feed slightly decreased by 0.2%, a result of the closure of restaurants, hotels and foodservice because of COVID-19, which led to a shift in consumer demand for products of animal origin and decreased use of certain higher-priced meat cuts.
Previous predictions by FEFAC projected a decline of 1.1% in pig feed in 2020, due to the spread of African swine Ffver (ASF) in Europe and its impact on the pig sector. Nevertheless, pig feed production increased by 1.3% in 2020.
This was mainly because several countries increased their exports to China, benefiting from Germany's export ban due to ASF in Germany's wild boar population since September 2020 and problems with slaughterhouses capacity. This was also clearly noted by AGRAVIS Raiffeisen AG, one of the biggest feed producers in Germany.
A spokesperson of AGRAVIS told Feed Strategy: "Pig production in Germany is at a high level and, from summer 2020 onwards, the situation was very tense, because large German slaughterhouses had to significantly reduce slaughter capacities due to COVID-19. This led to a pig jam, and pigs had to be kept in the stables much longer than usual. Compared to young animals, finishing animals have a higher feed conversion ratio so this led to an increased demand for feed."
Germany takes leading position
While in 2019, Spain was still the biggest compound feed producer in the EU, its saw a drop of 4.6% in production last year. Germany, second biggest in 2019, increased its total volume a bit (+0.8%), but enough to make it the biggest producer in 2020 with an estimated 24.29 million metric tons. According to the preliminary figures from the Deutscher Verband Tiernahrung e.V. (DVT), Germany saw a decrease in cattle feed production (-2.93%) and an increase for pig feed (+2.78%), layer feed (+2.94%) and broiler feed (+0.01%).
Of the total of more than 24 million metric ton produced in Germany, 4.9 million ton was produced by AGRAVIS Raiffeisen AG. Even though it kept volumes stable during the past few years, 2020 was a challenging year.
"In 2020, the biggest challenge was to ensure that employees in the field of production (factory employees) and logistics (truck drivers) get through the coronavirus safely. By consistently implementing numerous measures to minimize the risk of transmission of COVID-19, we got well through 2020. At the beginning of 2020, we also noticed some challenges with the import of feed additives from China," a spokesperson of the German company said.
Dutch feed producer De Heus managed to reach a total volume of compound feed, premixes and concentrates of 8.6 million ton in 2020, an increase over 2019.
De Heus said: "We had to deal with unusual circumstances in 2020. We therefore strongly focused on managing timely delivery of raw materials at our production sites. This extra effort led to a continuation of production throughout the year and continuous organic growth in all the countries we are active in. We have a positive outlook for 2021."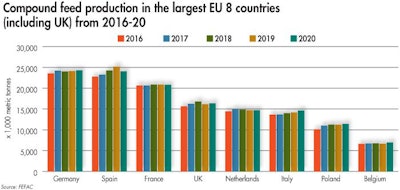 The main animal feed producers in the EU in 2020 include Spain, Germany and the Netherlands. (FEFAC)
Animal feed and CAP reforms
Looking at the rest of the year, it is expected that market problems for animal products resulting from the combination of COVID-19, AI and ASF impacts will continue. But the animal feed sector showed resilience in 2020 to cope with the pandemic and animal disease challenges — a positive sign that feed production is expected to keep on growing.
At the same time, the EU feed sector is also in the middle of another big challenge: its role in making EU agriculture more sustainable, as outlined in the new Europe's Common Agricultural Policy (CAP), coming into effect on January 1, 2023. CAP incorporates the sustainable ambitions of the European Green Deal, i.e. EU to become the world's first "climate-neutral bloc" by 2050.
According to FEFAC, there is huge potential of animal nutrition to help farmers in the transition to more sustainable practices, including the reduction of environmental emissions but also the use of sustainably sourced soy and locally produced protein crops, all topics that are outlined in the new CAP.
FEFAC president Asbjørn Børsting said: "We see great potential for a range of different protein crops in Europe, such as fava beans, peas and lupins. Many EU projects are looking into this, and focus on plant breeding, nutrient optimization and digestion of these raw materials in animal diets."
The precision feeding era
While feed volumes are important, many European feed companies take responsibility regarding sustainable farming practices.
Dutch animal nutrition company Nutreco is one of the leading firms that has sustainability high on the agenda. Leo den Hartog, director of research and development at Nutreco told Feed Strategy: "Livestock has an important role to play in the circular economy, considering that around 86% of the ingredients in animal diets are not consumed by humans. The ability of animals to turn food leftovers, byproducts and grasses into highly nutritious animal protein for humans is very efficient already. But we can make this even more efficient, and hence sustainable, with the choice of raw materials, the use of kinetics in formulation, the more in-depth knowledge of nutrients and how they behave in the animal and the use of health-promoting feed additives, all topics that Nutreco is highly engaged in."
Den Hartog is positive that all of these precision feeding tools allow for further optimized production systems and to make sure the genetic potential of the animal is better reflected in practice.
"If we can minimize this genetic yield cap, we can make huge steps forward in making farming systems more efficient and sustainable," he said.
ASF, grain price volatility add risk to pig production: https://bit.ly/3cLKMuW