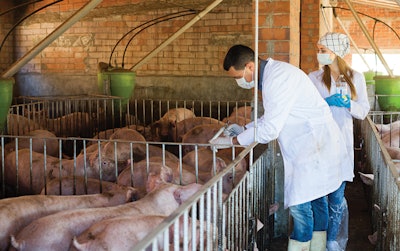 By inviting influencers onto the farm, a positive message about how and why antibiotics are used in animal production can be shared to a wider audience
Wanting to clarify misconceptions about animal antibiotic use, the National Pork Board (NPB) has hosted numerous farm tours to which people described as influencers have been invited.
Claire Masker-King, NPB director of sustainability and communications, talked about how those tours were a positive experience for all involved while speaking at the National Institute for Animal Agriculture (NIAA) 10th Annual Antibiotic Symposium on November 3.
"We know that, more than ever before, consumers have questions about how their food is raised, and that includes questions about antibiotic use on livestock farms. For us in the agriculture industry, that means a greater responsibility to answer those questions," Masker-King said.
The NPB said it is committed to educating consumers about how antibiotics are used on pig farms across the United States, and found that an effective way to do that is through farm tours. During the past several years, Masker-King said, more than 200 influencers have taken part in tours at about 20 farms across the country. The influencers invited include public health officials, media representatives, social media influencers and registered dietitians.
Masker-King said that in reaching such influencers, a wider group of people can learn from people they trust and consider voices of reason and authority.
"We're really in that tribal communication period and we trust our influencers. We have research that shows that some Gen Zers actually believe the individuals they follow on YouTube know them better than their friends and family," she said.
To enable a better and more personalized experience for tour participants, the number of influencers invited per tour are typically limited to no more than 12.
Keys to a successful tour
Masker-King said there are four basic keys the NPB keeps in mind that make for a successful influencer tour. Those are:
Preparation
The NPB works one on one with the farms where tours are to be held, to ensure they are prepared. Pre-tours will be conducted, and farm operators are asked potential questions that could be asked during an actual tour. They are given the opportunity to know the types of answers they can give that allow them to show their values.
Communications
Tour hosts are encouraged to communicate openly with tour participants. One example is that visitors of a farm are expected to shower in before entering the area where animals are kept. Farm operators can explain they require that of visitors in an effort to keep the animals healthy. They can further explain that the first step in using antibiotics responsibly is to keep the animals healthy, and when they are healthy, there is less need for antibiotics in the future.
Transparency
The NPB believes in transparent storytelling. Tour hosts are told that no questions are off limits, and producers know that they can feel open to answer those questions.
Expertise
Farmers don't farm alone, Masker-King said. They rely on the knowledge of experts such as veterinarians and agronomists, and learn from those experts. Their knowledge can also be shared with influencers.
"This is incredibly important when we talk about antibiotics use, and they realize how important it is that we work hand-in-hand with our veterinarians to use antibiotics responsibly when they are needed on the farm," she said.
Surveys reveal success
Before and after each tour, participants are surveyed on their opinions on matters such as antibiotic use.
Prior to each tour, influencers have varied opinions of antibiotic use, with a relatively high percentage of those opinions being skeptical or negative. However, during post-tour surveys, NPB has learned that nearly all participants' opinions of animal antibiotic use changed to "extremely favorable," as they learned that antibiotics are only used sparingly to ensure the pigs' comfort and health, and that no pork products contain antibiotic residues when they reach the consumer.
And those extremely favorable opinions are shared with the wider public.
One social media influencer after the tour posted: "Having seen the entire operation and been alongside the farmers as they did their jobs, I can confidently say that all the pigs are healthy, and I stand behind these farmers and their method. It makes me feel good about where my food comes from."
Masker-King said that influencer was not asked to post such a message, but rather did it because she was impressed with what she saw and learned.
"I think it shows the positivity, and now she's able to help share our story out," said Masker-King.