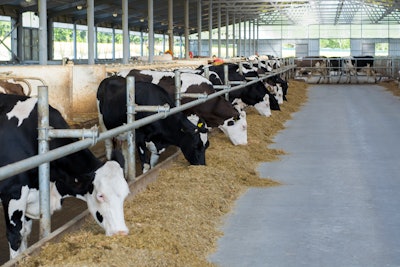 Oleksandr Yucynskyi | BigStock.com
Università Cattolica del Sacro Cuore (UNICATT) in Piacenza, Italy, has concluded two highly successful trials of DSM-Firmenich's methane-reducing feed supplement, Bovaer, the company said in a press release.
Trials conducted at CERZOO, the dairy farm of Università Cattolica, achieved reductions close to 50% in methane emissions.
Two on-farm trails conducted by the Università Cattolica tested the efficacy of Bovaer in ruminants consuming Italian dairy cow diets, that are rich in corn silage. At the recommended minimum dose, Bovaer reduced enteric methane emissions by 44% to 50% while maintaining milk production and composition, milk fatty acids profile, animal health and welfare, and feed efficiency. These positive results, which come after more than 60 successful trials in 17 other countries, demonstrate once again that Bovaer is highly effective in reducing methane emissions in dairy cows.
"3-NOP or Bovaer has been extensively tested by our scientific colleagues around the world and promises to deliver a significant reduction in methane emissions from dairy cows," said Erminio Trevisi, full professor at Università Cattolica. "We are very pleased that the trial at CERZOO, Università Cattolica's dairy farm, has achieved significant methane reductions with an Italian diet and dairy cow system, while maintaining milk quality. Our modern facilities enable us to accurately measure feed intake and exhaled gases from the cow, as well as the more common parameters of milk production, composition, and animal health."
During the trial at CERZOO, cows were either fed an Italian, corn silage-based diet with a quarter teaspoon of Bovaer or assigned to a control group. The GreenFeed system was used to analyze the cows' breath for methane, carbon dioxide and hydrogen emissions, enabling the methane reduction achieved with Bovaer to be measured accurately. The trial also monitored other relevant parameters, such as milk production, milk composition, feed intake and animal health. The trial consisted of two phases: the first started in summer and the second in winter, with cows receiving a quarter teaspoon of Bovaer in their summer and winter diets. UNICATT is preparing to publish the results in a peer-reviewed journal.
"I'm proud that DSM-Firmenich can offer dairy farmers a solution that will contribute to tackling one of the greatest challenges of our time. Collaboration, new ways of thinking, and pioneering innovations are all crucial to making dairy farming more sustainable," said Mark van Nieuwland, vice president Bovaer at DSM-Firmenich.