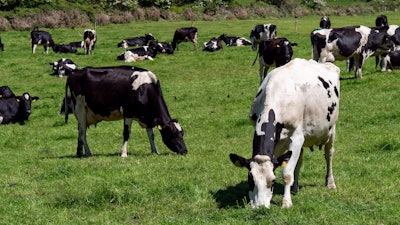 Alex Konon | BigStock.com
Cattle producers in some parts of the world have only just gained access to the first generation of methane-reducing feed additives such as DSM's Bovaer, but a new research consortium aims to multiply the number of options that could be available in the future.
The Greener Cattle Initiative awarded its first grant of more than US$750,000 to Penn State's Distinguished Professor of Dairy Nutrition Dr. Alexander N. Hristov in mid-August. The funds will support Hristov's work to develop new methane inhibitors for cattle producers by focusing on innovative compounds that have shown an ability to reduce enteric methane emissions by at least 30% in early laboratory tests.
But Hristov's project won't be the consortium's last investment. Juan Tricarico, director of the Greener Cattle Initiative and senior vice president for environmental research and distinguished scientist at Dairy Management Inc., said the consortium will continue to fund enteric methane research until producers have access to a variety of products and strategies.
"Not every farmer is the same, not every feed ration is formulated the same way, and not every nutritionist has the same feed ingredients to work with, so to have more options is the responsible thing to do so that producers can select what is best for them," Tricarico said. "We can't expect to have a single silver bullet that is going to solve the issue."
Initially founded in 2021 by a coalition of industry, non-governmental organizations (NGOs) and government leaders, the Greener Cattle Initiative aims to support fundamental research on methane mitigation options, Tricarico said. It hopes to expand scientific knowledge of topics such as dairy and beef cow nutrition, rumen microbiology, genetics, the economics of methane, and even technologies to better measure emissions of enteric methane. New methane-busting feed additives may be a trendy topic in the media, Tricarico said, but support for more fundamental work in the field is lacking, with research to understand, measure, monitor and reduce enteric methane emissions drawing just US$2 million in federal funding per year between 2017-21, according to a report by The Breakthrough Institute.
"Everything is being funneled through that critical piece of mitigation options, but the impact of that is going to be discoveries in nutrition, discoveries in the microbiome, and discoveries in animal physiology that will not only allow us to validate current options, but to recognize options we may not be thinking of yet," Tricarico said.
The Greener Cattle Initiative aimed to raise US$5 million for enteric methane research, but Tricarico expressed optimism about exceeding that goal and providing future funding opportunities to projects that could shed light on strategies to reduce methane emissions from cattle.