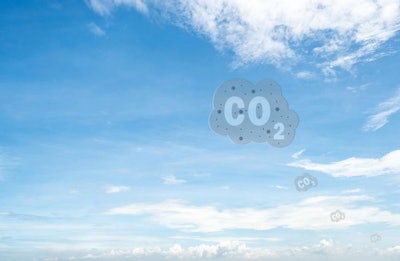 UK-based Deep Branch has developed a process to convert waste carbon dioxide into a high-quality and sustainable protein for livestock and aquaculture diets.
A few years ago, Dr. Peter Rowe began to explore ways to produce single-cell protein from carbon dioxide (CO2).
A Ph.D. graduate of the United Kingdom's (U.K.) Nottingham University, Rowe went on to set up the company, Deep Branch, to progress this work, according to Horizon – the European Union research and innovation magazine.
From its operations in the U.K. and the Netherlands, the firm used for its pilot plant the gas from a bioenergy plant that burns wood.
Using similar technology to producing enzymes or brewing beer, Deep Branch's process involved culturing microbes in a bioreactor, said Rowe. Together with hydrogen as an energy source, the carbon dioxide is fed into a fermentation tank with the selected organisms. Once the fermentation is complete, the resulting material is dried to a powder, called Proton, which contains around 70% protein.
More sustainable protein
Its product contains more protein than many soybean meals, says Deep Branch. Furthermore, the single-cell protein is more sustainable than conventional proteins used in livestock and aquaculture feeds.
According to the Horizon article, soy cultivation drives deforestation, global warming and habitat loss. Meanwhile, for aquaculture feeds, overfishing to produce fish meals can unbalance ocean ecosystems.
Along with a growing human population, demand for food is also increasing, putting further pressure on global production systems.
Furthermore, for Rowe, regional food security is an important consideration.
"Europe is almost completely reliant on South America for the protein we use to feed our animals," he said. "There's a high risk of extreme events, geopolitics, or even weather, disrupting that."
He sees Deep Branch's technology contributing to a more sustainable, circular economy.
Other uses of CO2 in food production
For many food systems, carbon dioxide plays a vital role in a range of processes, and shortages of supply can also disrupt businesses.
As an example, it was reported recently that a shortage of carbon dioxide was threatening to disrupt New Zealand's chicken supplies. Used in packaging and for refrigeration, the gas helps extend the shelf life of packaged meat and ready meals. Facing limited supplies of food-grade carbon dioxide, the nation's leading poultry meat company warned it might have to cut back chicken output.
More on Deep Branch
According to the firm's website, Deep Branch aims to create sustainable, high-value food and feed ingredients to support a more sustainable food system. Its proprietary technology uses carbon dioxide and hydrogen as clean and renewable carbon and energy sources to deliver next-generation bio-based products.
Founded in 2018 by its present CEO Pete Rowe of Nottingham University in the U.K., Deep Branch has grown to a workforce of around 30 people there and in the Netherlands.
To use its technology safely and efficiently, the company works in partnership with others. Among these are feed producers and upstream companies such as carbon dioxide suppliers. Already it has established connections with aquaculture group BioMar, U.K.-based supermarket chain Sainsbury's, and power company Drax.
In November 2020, Deep Branch secured funding of EUR2.5 million from the European Innovation Council. This was targeted to scaling-up the firm's process that produces a novel protein for animal feed from industrial emissions.
Last month, the company was awarded GBP4.8 million (US$5.8 million) to upscale its proprietary fermentation platform. The source of this financial support was the U.K. government's Department for Business, Energy and Industrial Strategy. This first commercial production unit for the company's single-cell protein Proton is expected to start production in 2027.