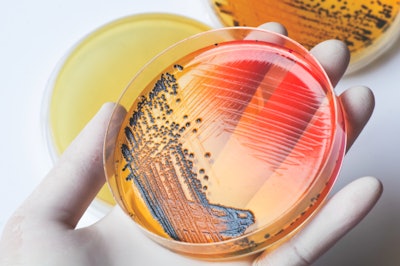 More sensitive method of serotyping may eliminate biases created by traditional means
CRISPR technology can help poultry and egg producers pinpoint the source of Salmonella contamination better than traditional methodology, according to Dr. Kurt Richardson, chief science officer emeritus at Anitox.
Richardson spoke during a webinar presented by Anitox on January 25, as part of the International Production & Processing Expo Marketplace.
CRISPR, which stands for clustered regularly interspaced short palindromic repeats, can identify minor, or less dominant, serotypes of Salmonella in a sample. Traditional methods of identifying a Salmonella serotype only show the most dominant serotypes, but the less dominant serotypes might be the ones that are more important for food safety, Richardson said.
"There's a lot of pressure on the producer to control Salmonella and other foodborne pathogens in their products that they deliver to the consumers," he said.
The U.S. Department of Agriculture (USDA) sets limits for Salmonella in broilers, turkeys and swine, and Richardson said 15% of poultry processing plants fail to meet those standards.
"So, you've got a Salmonella problem. Where did it come from? Where do you put your money as far as solving this issue?" he asked. In the U.S., "we put all of our money in our processing plants. We spend a lot of money treating carcasses with chemicals to reduce Salmonella risk, but plants are still failing. What that means is we have to go back upstream (because) the isolates we find in the processing plants don't match the isolates we find in the field and at the farm."
Advantages of CRISPR
Richardson cited data that shows traditional methodology for Salmonella detection is flawed 14% of the time: The predominant serotype isn't the one selected from the sample.
"Pre-enrichment and enrichment media influences Salmonella serotypes that we detect," he said. "So, the traditional method that we're using won't pick up those minor serotypes that we're looking for. We'll only find the dominant serotype."
This is where CRISPR technology is useful.
"We are biasing our serotypes as we move through our pre-enrichment to our enrichment broths and we're influencing what we see at the end," Richardson said. "CRISPR can differentiate between this."
Each Salmonella serovar has a different profile, which makes it easy to differentiate between Salmonella serotypes.
"The real advantage of CRISPR is, it's not relying on an individual colony that we select," Richardson said. "It's relying on the population of Salmonella."