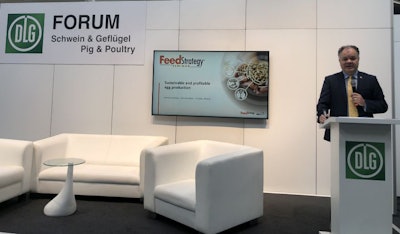 Animal agriculture needs to harness good storytelling to explain its sustainability goals to consumers and how it is working to achieve them
Sustainability is a global issue that affects all species in animal production, and it creates opportunities for companies in the industry, according to Patrick Charlton, vice president – Europe at Alltech, who spoke November 15 as part of the Feed Strategy Seminar Series at EuroTier 2022 in Hannover, Germany.
"There tends to be a lot of focus on ruminants, beef animals and dairy, for obvious reasons," he said. "But we're seeing a much bigger focus today, in monogastrics, pigs, poultry, but also in fisheries. And I think it's really key to understand this is a cross-industry challenge and opportunity."
Companies must use storytelling to explain their sustainability journey to consumers, who want to see the animal agriculture industry working to reduce its carbon footprint and produce healthy, affordable food. They also must understand the role the media and social media play in getting that story out to consumers.
"We must continue to do what agriculture has done a fantastic job of for the last 50-60 years, which is provide wholesome, healthy food at an affordable price. Secondly, the importance of our industry in helping rural communities to thrive. And lastly, and most importantly, the area that starts to be important, is the ability that we have to replenish our planet," Charlton said. "Every time we put a message out there, we're sending the right message, because if we're not sending a positive message out on agriculture, then it's going to be balanced by counter messages from people who have reasons and causes to argue against animal production."
What consumers see on social media feeds into consumer demand and affects buying decisions, and companies need to understand what sustainability means to consumers in different markets, Charlton said.
"In Western Europe, we tend to see this much higher focus on welfare and local production," he said. "As we head east, those markets, things like nutrition, safety, quality and community contribution become much more relevant. So, you have to understand your customer and you have to understand what's important to them and driving them. So, sustainability definition changes, dependent on where you are."
But measuring progress by using a framework such as the U.N. Sustainable Development Goals helps the ag industry send a consistent message to consumers and shows how well it is achieving those goals.
"The bottom line is, when we start looking at things like sustainability, if you want to improve it, you have to measure it. If you don't measure it, you're not going to be able to improve it. It's very simple. And these are working in areas such as precision agriculture, farm management software, next generation farming. The ability to collect data, but more importantly then to process that data into a format that the farmer and the producer can make informed decisions to help them improve what they're doing."
Measurable actions such as food loss reduction, carbon footprint reduction, improved animal welfare, reduced land use, reduced mineral leaching and improved protein efficiency are relevant to businesses and consumers. This can create a holistic goal of replenishing the planet, Charlton said.
"When we look at everything we do on the farm, whether it's genetics, whether it's feed, whether it's housing, whether it's transport, whether it's the slaughter, whether it's what goes in the feed, every aspect of the production system you use, you're not looking for massive improvements on everything. You're looking for small, incremental changes on a continual basis that enables us to say, 'This year, we did better than last year, the next year, we'll do better than we did this year,'" he said.