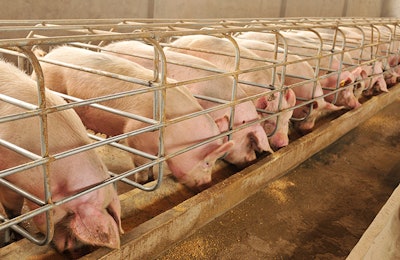 Company is facing cash flow problems and seeking government help to cover feeding costs
Chinese hog breeder Jiangxi Zhengbang Technology will undergo restructuring of one of its breeding businesses in an effort to restore cash flow, according to a Reuters report.
"Zhengbang, which embarked on an ambitious expansion during 2020 and 2021, was left with huge debts after hog prices fell last year, and had to seek help from local government entities to cover some of its feed costs," Reuters said in late October.
The company said creditors had applied to local courts for reorganization of some of its business units. Jiangxi Zhengbang Breeding has started the reorganization process, the company said.
Zhengbang produced almost 15 million hogs for slaughter in 2021, up 56% from the previous year. When hog prices fell in the second half of 2021, the company suffered a loss, and media reports suggested the company was not feeding some of its pigs because of cash flow problems.
In response, the company said there was "occasional interruption of feed supply in a few areas, caused by low hog prices, COVID and the company's tight liquidity," but that the "temporary feed cut" would not affect normal production.
In March, Jiangxi Zhengbang Technology said it would sell eight of its animal feed units to Beijing Dabeinong Technology in a deal worth between CNY2 billion (US$316.5 million) and CNY2.5 billion. The sale included full ownership of Deyang Zhengbang, Danling Zhengbang and Chongqing Guanglian, as well as majority stakes in five Zhengbang subsidiaries based in the southwestern provinces of Yunnan and Guizhou.
According to Feed Strategy's Top Feed Companies database, Zhengbang Science and Technology is one of China's top 10 feed enterprises. The diversified agribusiness controls more than 700 branch subsidiaries active in animal husbandry, crop planting, agricultural materials, logistics and related investments. In 2021, it produced 4.53 million metric tons of animal feed.