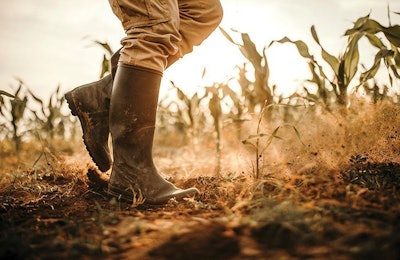 Dry summer could trigger volatile feed costs, but recession could cause markets to cool
Feed costs have seen some relief in recent weeks in anticipation of record corn and soybean production in the U.S., but markets may continue to experience volatility for a few weeks if hot, dry conditions persist within the corn belt.
Corn futures fell more than a dollar per bushel, and soybeans by nearly US$2 per bushel, over the course of the last month, according to an analysis by Purdue University's Center for Commercial Agriculture. At least some of these cost declines can be attributed to recession-related pressures, particularly the stronger dollar, according to Jim Roemer, a meteorologist and registered commodities trading adviser with Best Weather Inc. But these prices could remain unstable for at least a few more weeks, depending on how the forecast plays out.
"With all this rain and the recession fears, a lot of people who made money in grains last year cashed in," Roemer said. "But now we're seeing the potential for it to get a lot hotter again, this week and into August. Because we still have a tight stock situation, any little weather scare at all could create a rally for the rest of the summer."
So far this summer's weather has proven somewhat unusual, Roemer said, because the Pacific Ocean is experiencing a third year of La Niña conditions. In general, the U.S. Corn Belt and Western Plains experience hotter and drier summer conditions during a La Niña. And while it's rare for La Niña to persist for more than two years, so far this latest episode continues, he said.
With June's price cuts representing what Roemer believes were the market's early recessionary fears, traders are "now looking ahead to the possibility of a hot summer, so I think grain prices have the potential to go higher."
Even so, Roemer said he doesn't believe prices for corn or soybeans could escalate much beyond the peaks seen this year, with highs potentially nearing US$6-7 per bushel for corn. And any increase that occurs over the summer is likely to be temporary, he said.
"If it begins to rain, corn will go back to US$5 and soybeans to US$11-12, but I don't think that will happen. I think we will see dryness and rally," he said. "Then if the recession takes over, then this fall and into winter, we could see a longer-term bear market."